Zindagi Shayari
उम्मीद मत छोड़ना कल का
दिन आज से बेहतर होगा....
Ummeed Mat Chhodna Kal Ka
Din Aaj Se Behtar Hoga.
कल न हम होंगे न कोई गिला होगा,
सिर्फ सिमटी हुई यादों का सिलसिला होगा,
जो लम्हे है चलो हंसकर बिता लें,
जाने कल जिंदगी का क्या फैसला होगा...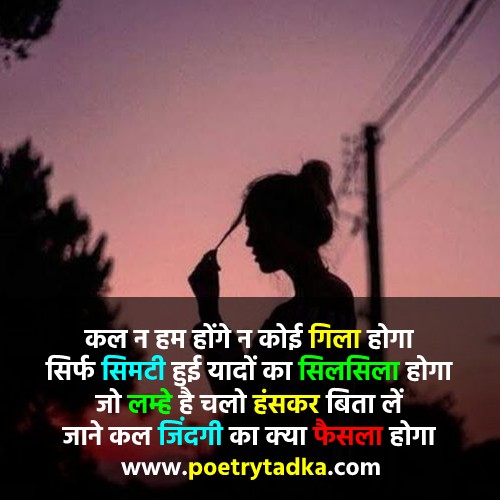 जब नादान थे तो जिंदगी के मजे लेते थे
समझदार हुये तो जिंदगी मजे ले रही है
Jab Nadan The To Zindgi Ke Maje Lete The
Samajhdaar Huye To Zindgi Maje Le Rahi Hai.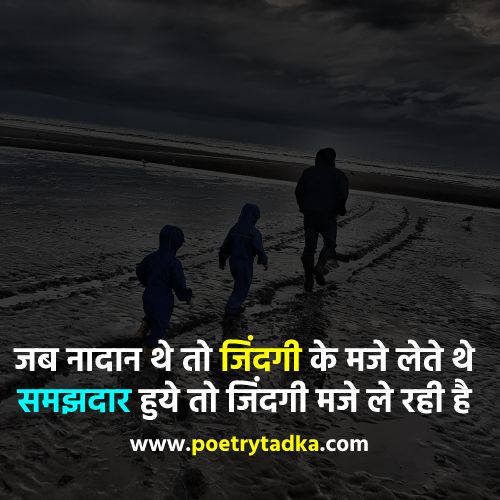 बड़े होंगे तो जिएंगे
जिंदगी अपने हिसाब से,
बचपन के इस ख्याल पर
अब बहुत हंसी आती है.
Bade Honge To Jiyengey Zindagi
Apane Hisaab Se.
Bachpan Ke Is Khyaal Par Ab
Bahut Hansi Aati Hai.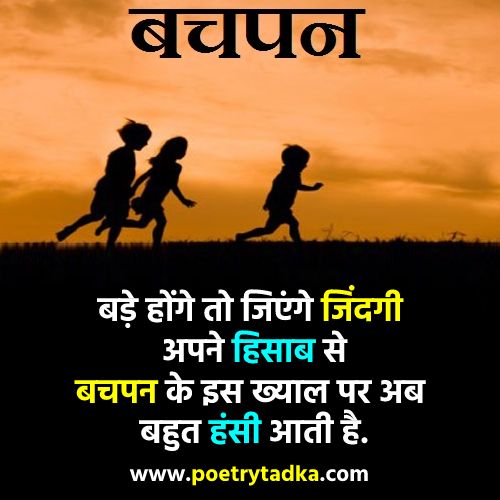 जिंदगी में खुश रहने का सबसे
अच्छा तरीका उम्मीद रब से
रखो सब से नहीं.
Zindagi Mein Khush Rahane Ka Sabase
Achchha Tareeka Ummeed Rab Se
Rakho Sab Se nahin.

आँखों में आंसू होंठों पे मुस्कान
वाह रे वाह ज़िन्दगी
यही तो है तेरी पहचान
Aankhon Me Aansoo Honthon Pe Muskan
Waah Re Waah Zindagi
Yahi To Hai Teri Pahchaan.
जिंदगी जोकर सी हो गयी है
जो आता है अपना मनोरंजन
करता और चला जाता है
Zindagi Jokar Si Ho Gayi Hai
Jo Aata Hai Apna Manoranjan
Karta Aur Chala Jata Hai.