Thanks Shayari
Welcome to Thanks Shayari ! Thank You Shayari in Hindi collections page by poetry tadka team. Hi friends looking Thanks Shayari to say any one tahnks via Thank You Shayari in Hindi. Please visit poetry tadka Thanks Shayari page and read latest Thank You Shayari.
हमारा जन्मदिन याद रखने
के लिए आपका शुक्रिया!
अपनी शुभकामना से इसे खास
बनाने के लिए आपका शुक्रिया !!
Hamara Janmdin Yaad Rakhne
Ke Liye Aapka Shukriya.
Apni Subhkamna Se Ise Khas
Banane Ke Liye Aapka Shukriya.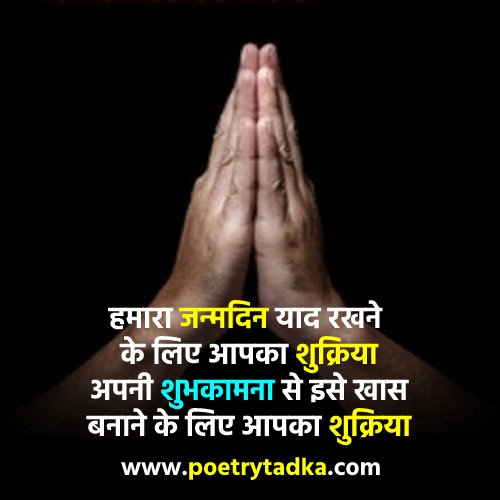 क्या कहूं मैं आपके बारे में
आपने निकाला है मुझे मुश्किल से,
मैं बहुत-बहुत धन्यवाद देता हूं
आपको दिल से
Kya Kahun Mai Aapke Bare Mein
Apne Nikala Hai Mujhe Mushkil Se,
Main Bahut-bahut Dhanyawad Deta Hoon
Aapako Dil Se.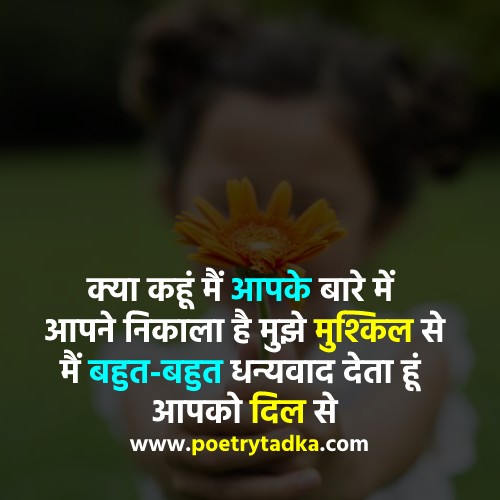 मेरे विशेष दिन पर आपके द्वारा भेजे गए
स्नेह और प्यार भरी जन्मदिन की
शुभकामनाओं के लिए धन्यवाद।
Mere Vishes Din Par Aapke Dwara Bheje Gaye
Saneh Aur Pyar Bhari Janmdin Ki
Subhkamnaon Ke Liye Dhanyawad.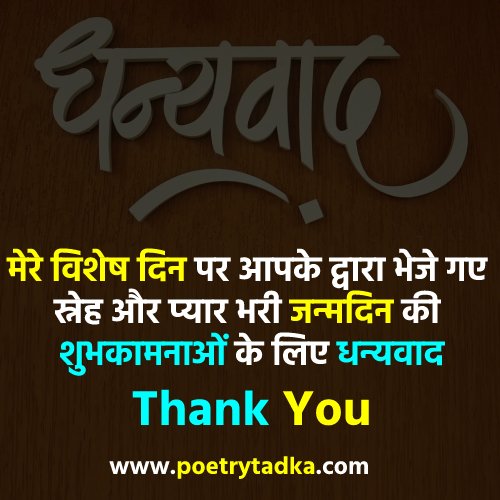 आपके सहयोग से मेरी जिंदगी में
आ गया है बड़ा स्वाद,
मेरे दिल की हर धड़कन से
आपके लिए निकल रहा है धन्यवाद
Aapke Sahyog Se Meri Zindagi Me
Aa Gaya Hai Bada Swad.
Meri Dil Ki Har Dhadkan Se
Aapke Liye Nikal Raha Dhanyawad.
सिर्फ इशारों में होती महोब्बत अगर,
इन अलफाजों को खुबसूरती कौन देता
बस पत्थर बन के रह जाता 'ताज महल'
अगर इश्क इसे अपनी पहचान ना देता