Tanhai Shayari
Welcome to तन्हाई शायरी - Tanhai Shayari in Hindi page. Looking Tanhai Shayari if yes here we have published तन्हाई शायरी and quotes in Hindi at poetry tadka तन्हाई भरी शायरी collections.
ख़्वाब की तरह बिखर जाने को जी चाहता है
ऐसी तन्हाई कि मर जाने को जी चाहता है !
Khwab Ki Trah Bikhar Jane Ko Jee Chahta Hai
Aisi Tanhai Ki Mar Jane Ko Jee Chahta Hai.
मैं तनहा हूँ और मुझे तनहा ही रहने दो,
ये साथ देकर साथ छोड़ने वालों से
मुझे बहुत डर लगता है?
Mai Tanha Hun Mujhey Tanha He Rahne Do
Ye Sath Dekar Chhodne Walon Se
Mujhey Bahot Darr Lagta Hai.
मैं हूँ दिल है तन्हाई है,
तुम भी होते अच्छा होता
Main Hoon Dil Hai Tanhai Hai,
Tum Bhi Hote Achchha Hota.
बनावटी रिश्तों से ज्यादा
तन्हाई में सुकून मिल रहा है.
Banawati Rishton Se Zyadah
Tanhai Me Sukoon Mil Raha Hai.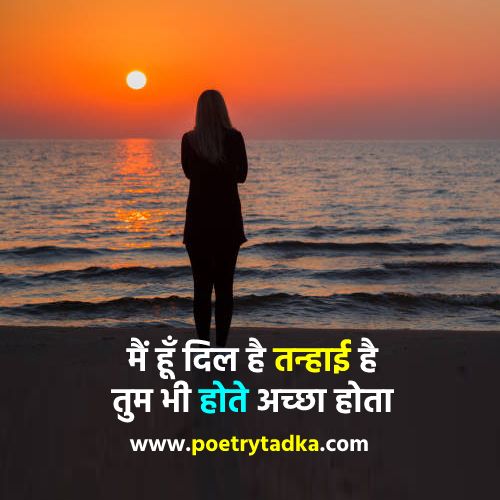 तन्हाई की आग में कहीं जल ही न जाऊँ
के अब तो कोई मेरे आशियाने को बचाले
Tanhai Ki Aag Me Kahin Jal Na Jaoun
Ke Ab Koi Mere Aashiyane Ko Bacha Le.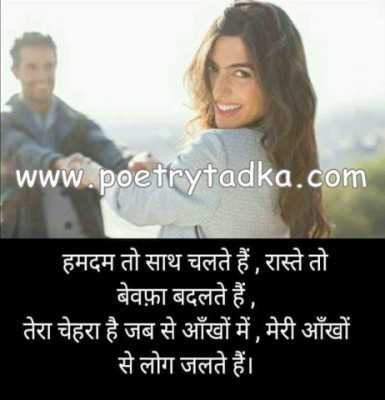 Meri Tanhayi Ko Mera Shaunq Na Samjhna;
Bohat Pyaar Se Diya Hai Yeh Tohfa Kisi Ne!
ये ठीक है मरता नहीं कोई जुदाई में,
खुदा किसी को किसी से मगर जुदा न करे।
Ye Theek Hai Marta Nahin Koi Judai Me
Khuda Kisi Ko Kisi Se Magar Juda Na Kare.