Smile Shayari
थोड़ी सी Smile थोड़ी सी Khushi, थोड़ा सा प्यार किसी को दे दो, तो वो दुनिया का सबसे बड़ा धनवान, और प्यारा इंसान कहलायेगा. This is poetry tadka Smile Shayari collections. And read here latest muskurahat shayari at poetry tadka shayari on smile in Hindi page. वो मुझसे दूर रहकर अगर ख़ुश है तो ख़ुश रहने दो उसे मुझे वैसे भी उसकी चाहत से ज़्यादा मुस्कुराहट पसंद है !!
अब और क्या लिखूं उसकी
प्यारी मुस्कान के बारे में,
बस कुछ यूं समझ लो
चमकता चाँद हैं लाखो सितारों में।
धडकनों को कुछ तो काबू में कर ऐ दिल,
अभी तो पलके झुकाई है,
मुस्कुराना बाकी है उनका,.,!!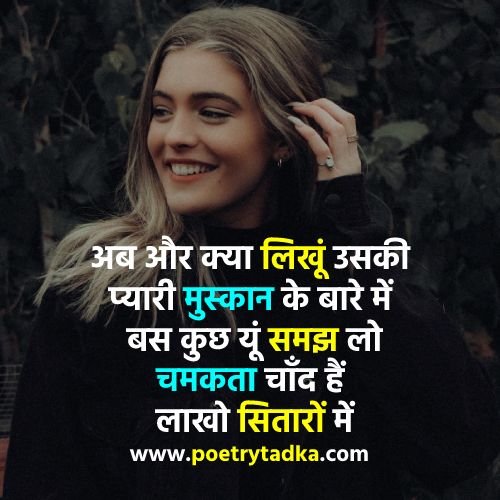 मुस्कुराहट एक कमाल की पहेली है
जितना वो बताती है।
उससे कहीं ज्यादा छुपाती है !!
Smile Is A Wonderful Puzzle,
As Much As She Tells.
Hides More Than That!!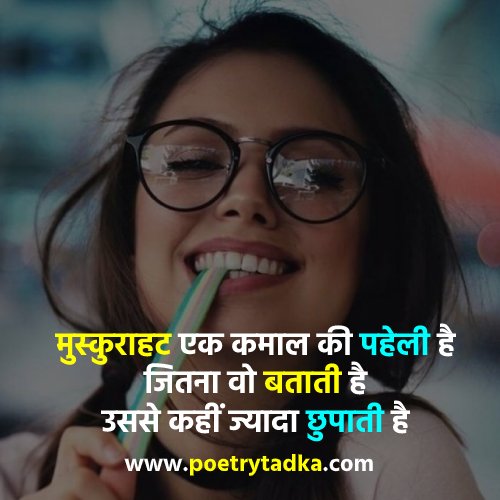 Teri Aik Muskurahat Ke Sadke
Main Apni Sari Khushiya War Dun
Zikra Tere He Chal Raha Tha
Youn He Nahin Muskuraye Hum.
Jab 5 Second Ki Smile Se
Photo Acchi Aaskti Hai Toh.
Hamesha Muskurane Se
Zindagi Kyu Nahi Acchi Ho Sakti.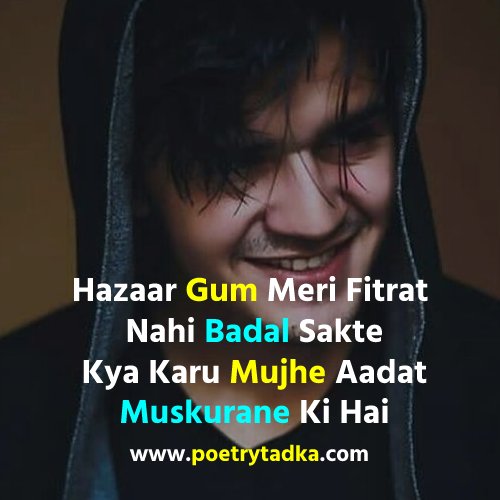 ज़रा सा था कमाल का,
तुम्हारा मुस्कुराना जो हमें ले डूबा।
Jara S Tha Kamal Ka
Tumhara Muskurana Jo Hamen Le Dooba.
अपनी मुस्कुराहट को आप जरा काबू में कीजिये,
दिल-ए-नादाँ उसपर कहीं शहीद न हो जाये।
Apni Smile Ko Ap Jara Kaboo Me Kijiye
Dil-E-Nadan Uspar Kahin Shaheed Na Ho Jaye.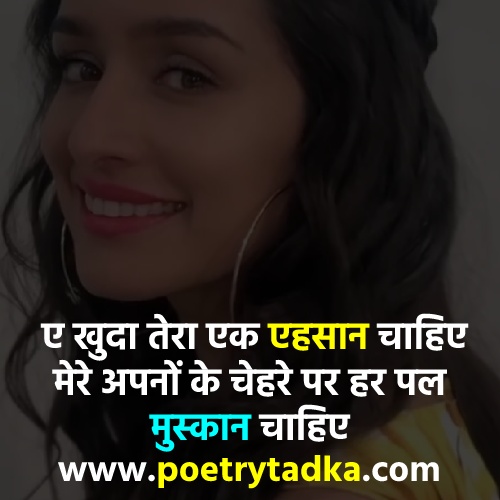 मुस्कुराहट भी मुस्कराती है
जब वो आपके होठों से
होकर आती है !!
Muskurahat Bhi Muskurati Hai
Jab Wo Aapke Hothon Se
Hokar Aati Hai.
किस किस से छुपाऊ तुम्हें मै
अब तो तुम मेरी मुस्कुराहट मे भी
नजर आने लगे हो !!
Kis Kis Se Chupaoun Mai
Ab To Tum Meri Muskurahat Me Bhi
Nazar Aane Lage Ho.