Silent Shayari
दो बातों की गिनती करना छोड़ दे
खुद का दुःख और दुसरों का सुख
जिंदगी आसान हो जाएगी.
Do Baton Ki Ginti Karna Chhod Den
Khud Ka Dukh Aur Doosron Ka Sukh
Zindagi Aasan Ho Jayegi.
तुम किसी और के लिए गड्ढा खोदते रहे
किस्मत तुम्हे ही उस गढ्डे के लायक समझती रही
Tum Kisi Ke Liye Gaddha Khodte Rahe
Kismat Tumhe He Us Gadhde Ke Layak Samajhti Rahi.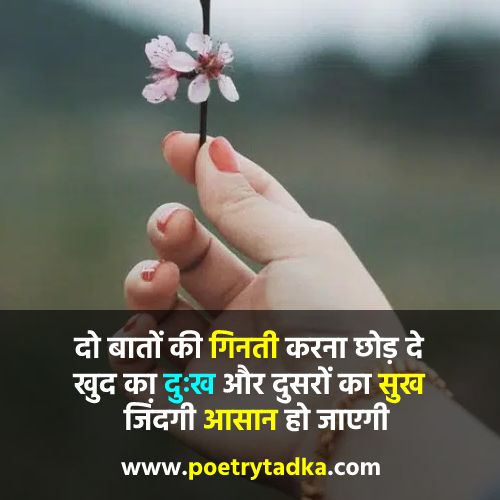 मुझे खामोश देखकर इतना
हैरान क्यों होते हो दोस्तों।
कुछ नहीं हुवा है बस,
भरोसा कर के धोखा खाया है।
Mujhe Khaamosh Dekhkar Itna
Hairaan Kyon Hote Ho Doston.
Kuchh Nahin Hua Hai Bas,
Bharosa Kar Ke Dhokha Khaaya Hai.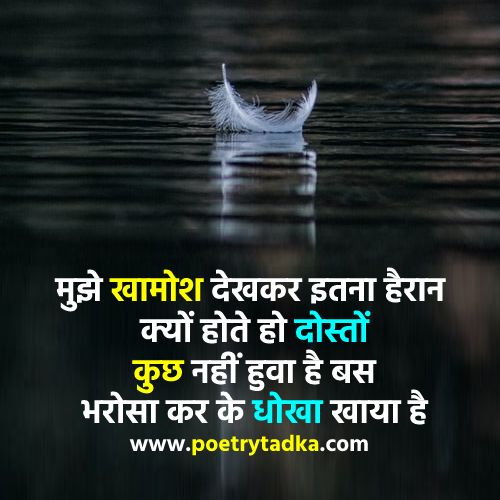 जज़्बात कहते हैं खामोशी से बसर हो जाये।
दर्द को ज़िद है, की दुनिया को खबर हो जाये।
Emotions Are Said To Live In Silence.
The Pain Is Stubborn, That The World Should Know.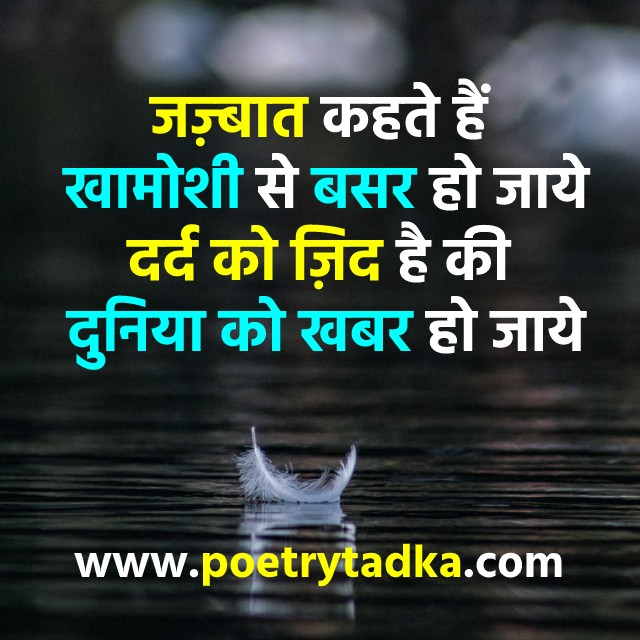 चुप रहना सीखो,
कुछ सवालो के
जवाब खुद मिल जायेंगे
Chup Rehna Sikho,
Kuch Sawalo Ke
Jawab Khud Mil Jayenge.
अच्छा है चुप रहना सीखो ।
लेकिन सच भी कहना सीखो।
झूठ दूर तक कब चलता है।
कड़वा सच भी सहना सीखो।
हवा के संग बहता जाता है।
अपने पाँव पर रहना सीखो।
दिल पत्थर ही ना बन जाये।
आँसू बन कर बहना सीखो।
अगर मज़े से रहना है तो।
किसी के दिल में रहना सीखो
झूठी शान में जीवन खोया।
अब जिल्लत में रहना सीखो।
हार जीत सब बेमानी है।
गिर-गिर उठते रहना सीखो ।।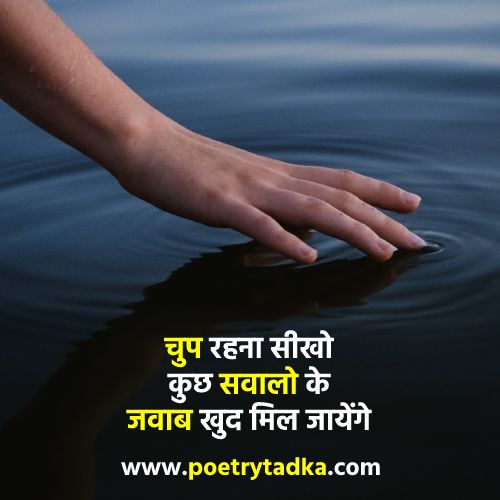 करीब आ तेरी आँखों में देख लू खुदको
बहुत दिनों से आइना नहीं देखा मैंने
Kareeb Aa Teri Aankhon Me Dekh Lun Khudko
Bahot Dinon Se Aaina Nahin Dekha Maine.