Sharabi Shayari
Welcome to Sharabi Shayari in Hindi at poetry tadka शराबी शायरी page. And read all in one latest Sharab Shayari In Hindi.
मयखाने से पूछा आज इतना सन्नाटा क्यों है,
बोला साहब लहू का दौर है शराब कौन पीता है।
Maikhane Se Pucha Aaj Itna Sannata Kyon Hai,
Bola Sahab Lahoo Ka Daur Hai Sharab Kaun Peeeta Hai.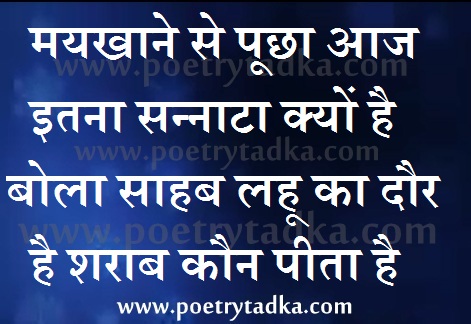 तू होश में थी फिर भी हमें पहचान न पायी,
एक हम हैं कि पी कर भी तेरा नाम लेते रहे
Too Hosh Me Thi Fir Bhi Hamen Pahchan Na Pai
Aik Hum The Ki Pee Kar Bhi Tera Nam Lete Rahe.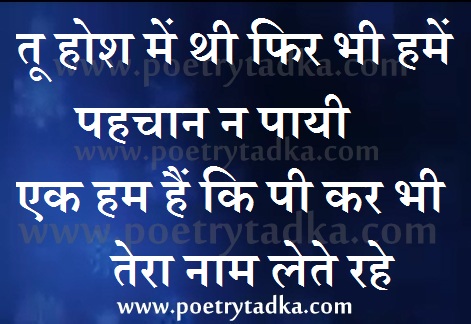 फिर इश्क़ का जूनून चढ़ रहा है सिर पे,
मयख़ाने से कह दो दरवाज़ा खुला रखे
Fir Ishq Ka Junoon Chadh Raha Hai Sir Pe
Maikhane Se Kahdo Darwaza Khula Rakhe.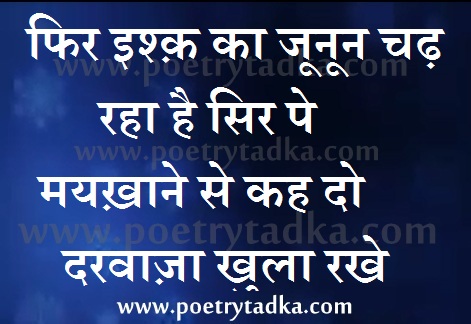 एक शराब की बोतल दबोच रखी है !
तुजे भुलाने की तरकीब सोच रखी है !!
Aik Sharab Ki Botal Daboch Rakhi Hai
Tujhey Bhulane Ki Tarqeeb Soch Rakhi Hai.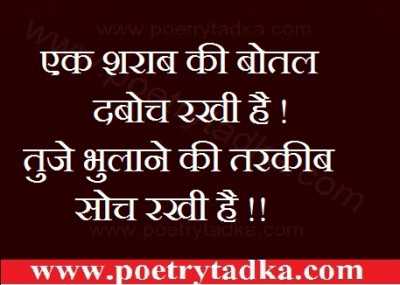 एक बोतल शराब के लिए,
कतार में ज़िन्दगी ले कर खड़ा हो गया,
मौत का डर तो वहम था,
आज नशा ज़िन्दगी से बड़ा हो गया।
Aik Botal Sharab Ke Liye
Kataar Me Zindagi Lekar Khada Ho Gaya.
Maut Ka Darr To Waham Tha
Aaj Nasha Zindagi Se Bada Ho Gaya.