Santa Banta Jokes
Santa Banta Jokes in Hindi one more popular page of poetry tadka joke collection. At this page find Santa Banta jokes including like Santa Banta jokes in hindi non veg and many more.
संता पेड़ पर उल्टे लटके हुए था
बंता ने पूछा : क्या हो गया?
संता : कुछ नहीं सिर दर्द की गोली खाई है
कहीं पेट में ना चली जाए.!!!
Santa Ped Par Ulte Latake Hue Tha
Banta Ne Poochha : Kya Ho Gaya?
Santa : Kuchh Nahin Sir Dard Ki Goli Khai Hai
Kahin Pet Mein Na Chali Jae.!!!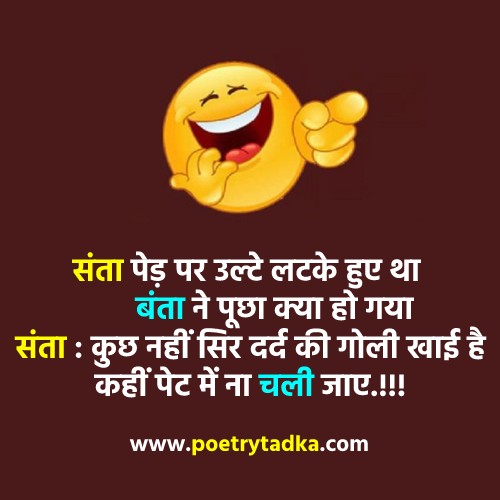 संता बर्फ़ का टुकड़ी उठा कर
उसे गौर से देख रहा था।
बंता : क्या देख रहे हो?
संता : देख रहा हूँ कि यह
लीक कहाँ से हो रहा है !
Santa Barf Ka Tukadee Utha Kar
Use Gaur Se Dekh Raha Tha.
Banta : Kya Dekh Rahe Ho?
Santa : Dekh Raha Hoon Ki Yah
Leek Kahaan Se Ho Raha Hai.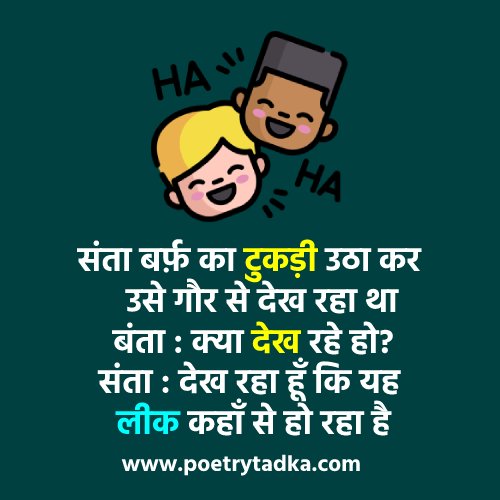 वीवी : किचन से अजी सुनते हो आजकल में खुबसूरत होती जारही हूँ
सांता : तुम्हे कैसे लगा
वीवी : आजकल मेरी खुबसूरती देखकर रोटिय भी जलने लगी है
संता : जब में अच्छे कपडे पहनकर सब्जी लेने जाता हूँ तो महगी सब्जी मिलती है और जब गंदे कपडे पहन कर जाता हूँ तो सस्ती मिलती है
संता की बीवी : एक काम करो कल से फटे कपडे पहन कर जाया करो फ्री में मिलेगी
संता : मैंने पिछले २० सालो में एक बात नोट की है
बंता : वह क्या
संता : यार ये रेलवे फाटक जब भी बंद होता है तो ट्रेन जरूर जाती है