Romantic Status
Guys looking latest all in one romantic Status in Hindi be with poetry tdka रोमांटिक स्टेटस and read a huge collection of romantic Status. I don't know whether it is love or something. But what is from you is not from anyone else.
क्यो ना गुरूर करू मै अपने आप पे
मुझे उसने चाहा जिसके
चाहने वाले हजारो थे.
Why Don't I Be Proud Of Myself.
I Loved The One Whose Loved
Ones Were Thousands.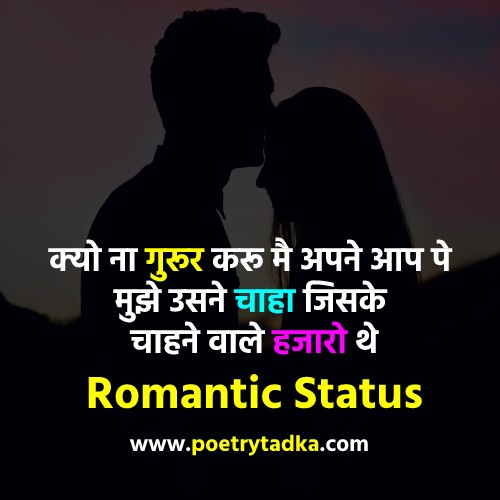 Kuch To Socha Hoga Kaaynaat Ne Tere Mere Rishte Par
Warna Itni Badi Duniya Me Tujhse Hi Baat Kyu Hoti
कुछ तो सोचा होगा कायनात ने तेरे मेरे रिश्ते पर
वरना इतनी बड़ी दुनिया में तुझसे ही बात क्यों होती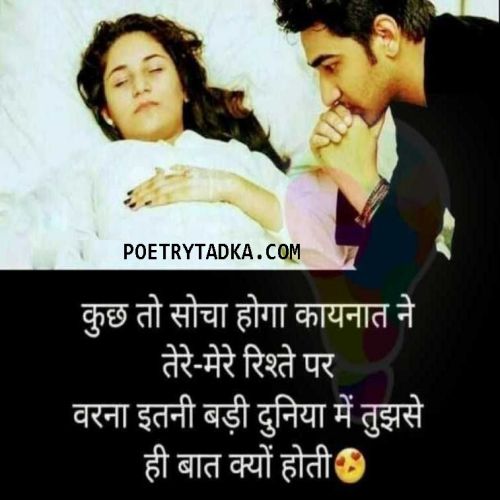 Mazbooti Se Baho Me Es Kadar Thaam Loon Tujhe
Ki Mere Ishq Ki Kaid Se Too Chah Kar Bhi Naa Choot Sake
मज़बूती से बाहों में इस कदर थाम लूँ तुझे
की मेरे इश्क़ की कैद से तू चाह कर भी ना छूट सके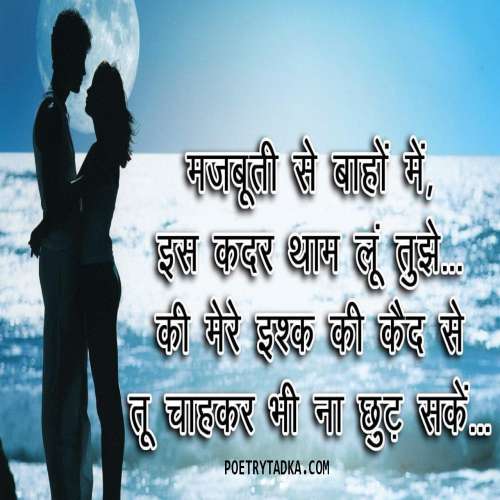 Tum Pooch Lena Subah Yaa Saam Se
Ye Dil Dhadakta Hai Sirf Tere Hi Naam Se
तुम पूछ लेना सुबह या शाम से
ये दिल धड़कता है सिर्फ तेरे ही नाम से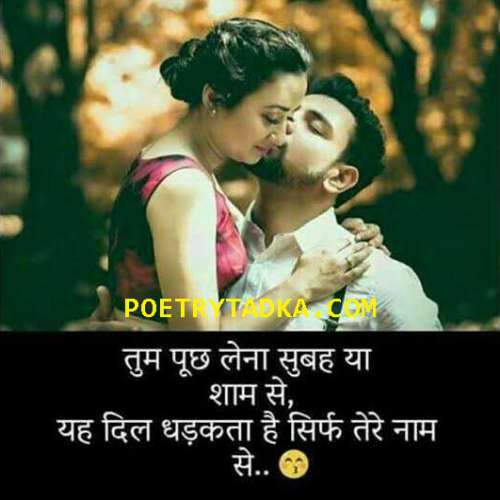 Hamara Pyar Aap Ke Intezaar Me Khilauna Naa Ban Jaye
Hum Aapko Beintha Chahte Rahe Aur Aap Kisi Aur Ka Diwana Ban Na Jaye
हमारा प्यार आपके इंतज़ार में खिलौना ना बन जाये
हम आपको बेइंतहा चाहते रहे और आप किसी और का दीवाना बन न जाए