Rajputana Shayari
Read New top best Collection Of Rajput Shayari, Best Rajputana Shayari, Top Rajput Attitude Shayari in Hindi, Royal Shayari Of Rajput राजपूतना शायरी. Rajputana Shayari & Rajput Status on attitude in Hindi.
मेरी सोच और मेरी पहचान...
दोनों ही तेरी औकात से बाहर है.
Meri Soch Aur Meri Pahchan
Dono He Teri Aukaat Se Bahar Hai.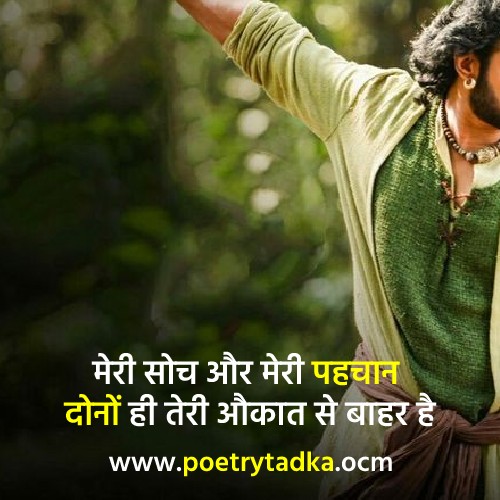 बेशक पहनलो हमारे जैसे कपडे और ज़ेवर
पर कहा से लाओगे, राजपूतो वाले तेवर..!!
Beshak Pahanlo Hamare Jaise Kapde Aur Jewar,
Par Kahan Se Laoge, Rajputon Wale Tewar.
राजपूत टूट सकता हैं,
लेकिन झुक नही सकता।
Rajput Toot Sakta Hai,
Lekin Jhuk Nahin Sakta.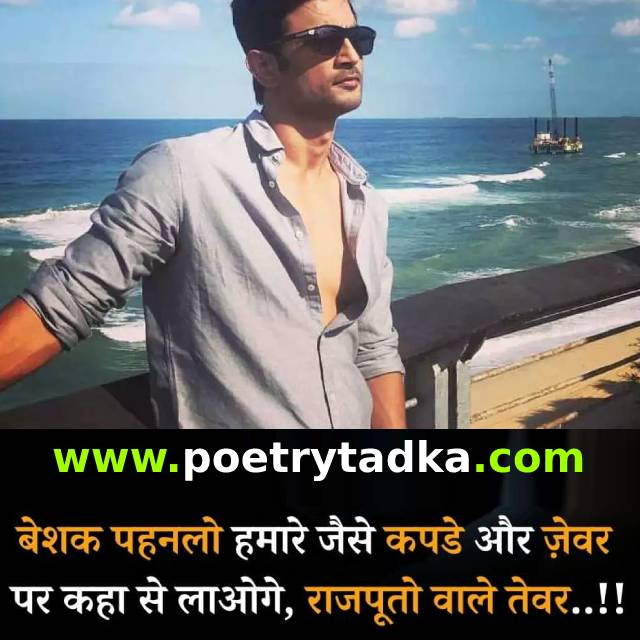 तेरी अकड़, मेरे पैर की धूल,
हम राजपूत है बेटा, ये मत भूल
Teri Akad Mere Pair Ki Dhool,
Ham Rajput Hai Beta, Ye Mat Bhool.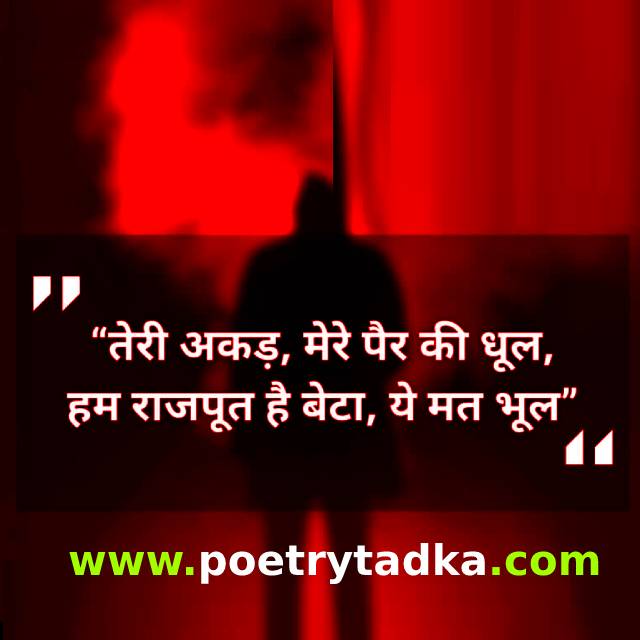 अभी तो हम मैदान में उतरे भी नहीं,
और लोगों ने हमारे चर्चे शुरू कर दिये.
Abhi To Ham Maidan Me Utre Bhi Nahin,
Aur Logon Ne Hamare Charche Shuru Kar Diye.
राजपूत हैं हम
मौत भी आती है तो पीछे से धोका दे कर,
दुश्मन की औकात ही क्या है,
जो वो सामने से वार करे..
Rajput Hain Hum
Maut Bhi Aati Hai To Peche Se Dhoka De Kar,
Dushman Ki Aukat Hi Kya Hai,
Jo Wo Samne Se Vaar Kare..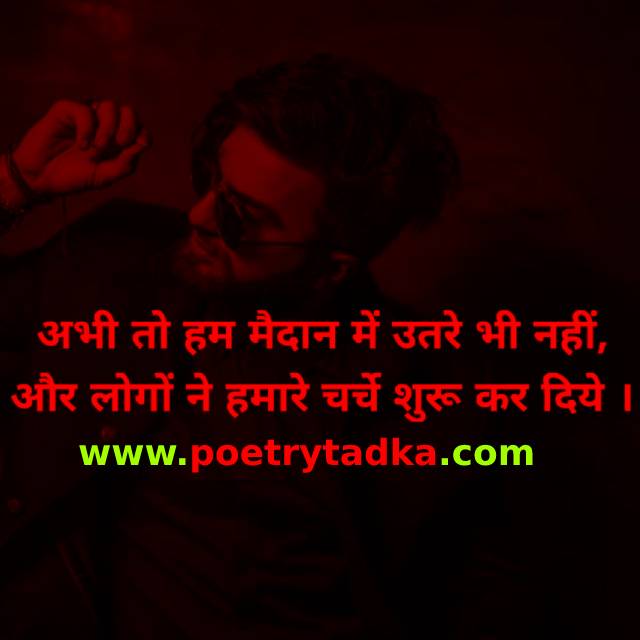 जिंदगी तो राजपूत जिया करते है
दिग्गजों को पछाड़ दिया करते है !
Zindagi To Rajput Jiya Karte Hain.
Diggajon Ko Pachchad Diya Karte Hain.