Motivational Status
Hi friends move this page and enjoy latest motivational status in Hindi fonts at poetry tadka motivational DP for Whatsapp page. So gow below and read latest motivational whatsapp status by poetry tadka website.
कामयाब होने के लिए अपनी
मेहनत पर विश्वास करना होता है
किस्मत तो जुए में आजमाई जाती है
To Be Successful You Have
To Believe In Your Hard Work.
Luck Is Tried In Gambling.
Motivational Status.

कौन कहता है कि.....
मुझसे बिछड़कर वो खुश़ है...
जरा उसके सामने मेरा नाम लेकर तो देखो
इंसान को बोलना सीखने में दो साल लग जाते हैं लेकिन,
क्या बोलना है,
यह सीखने में पूरी ज़िन्दगी निकल जाती है !!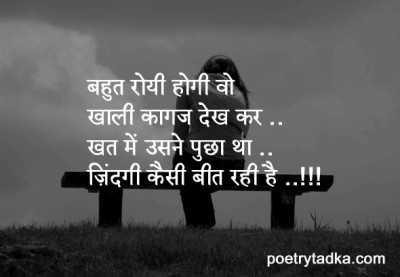 सीख जाओ वक्त पर किसी की चाहत की कदर करना,
कहीं कोई थक ना जाये तुम्हें एहसास दिलाते दिलाते...
किसी ने मुझसे पूँछा कैसी है अब जिंदगी !
मैने मुस्कुरा कर जवाब दिया ....वो खुश है !!