Miss you SMS
This is allo about miss you sms in Hindi, miss you msg for love, msg for missing friends and many more romantic miss u messages in Hindi.
काश तुम्हें ख्वाब ही आ जाये,
की हम तुम्हे कितना याद करते है !!
I Miss You.
Kaash Tumhen Khvaab Hee Aa Jaaye,
Kee Ham Tumhe Kitana Yaad Karate Hai !!

वो जो दो पल थे तुम्हारी और मेरी मुस्कान के बीच बस वहीँ कहीं इश्क़ ने जगह बना ली
Bhul Se Koi Bhul Huyi To
Bhul Samjkar Bhul Jana
Par Bhulana Sirf Bhul Ko
Bhul Se Bhi Hame Na
Bhul Jana....i Miss You
तुम्हारी यादों में बीती हर बात अलग है !
तुम्हारे साथ हुई हर मुलाक़ात अलग है !
हर शख्स मेरी ज़िन्दगी छू कर गया !
मगर तुम्हारे साथ हुई हर मुलाक़ात अलग है !!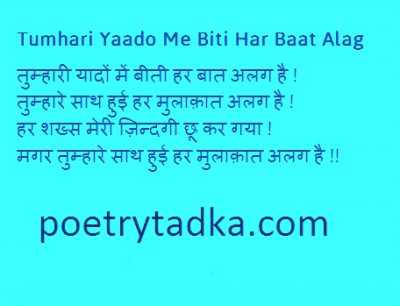 कुछ ऐसी प्यास थी मेरे लबों के दरमियाँ !
मैं ओढ़ कर संमुदर साहिल पे सो गई !!