Mausam Shayari
Now you are Mausam Shayari page by poetry tadka. Now you can read latest Shayari on weather in Hindi fonts.
इतना भी खूबसूरत न हुआ कर ए मौसम,
हर किसी के पास महबूब नहीं होता.
Itna Bhi Khoobsoorat Na Hua Kar Aye Mausam,
Hr Kisi Ke Paas Mahboob Nahin Hota.

बारिश की तरह तुझपे बरसती रहें खुशिया,
हर बूँद तेरे दिल से हर गम को मिटा दे.
Barish Ki Traha Tujhpe Barasti Rahen Khushiya,
Har Boond Tere Dil Se Har Gam Ko Mita De.

तुम पूछते हो कितना प्यार करते हो,
लो अब गिन लो बूँदें बारिश की.
Tum Poochhte Ho Kitna Pyar Karte Ho,
Lo Ab Gin Lo Boonden Barish Ki.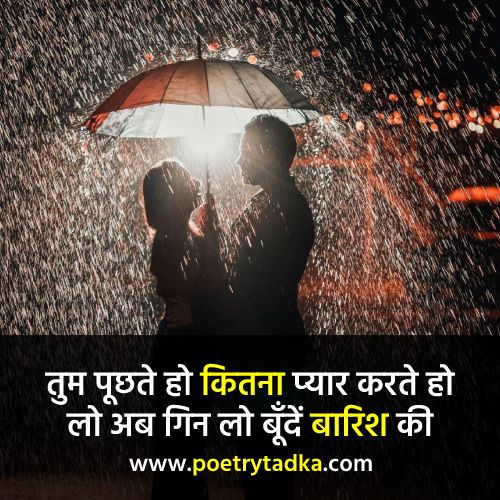 उदास छोड़ गया वो हर एक मौसम को
गुलाब खिलते थे कल जिसके मुस्कुराने से
Udaas Chhod Gaya Vo
Har Ek Mausam Ko.
Gulaab Khilate The Kal
Jiske Muskuraane Se.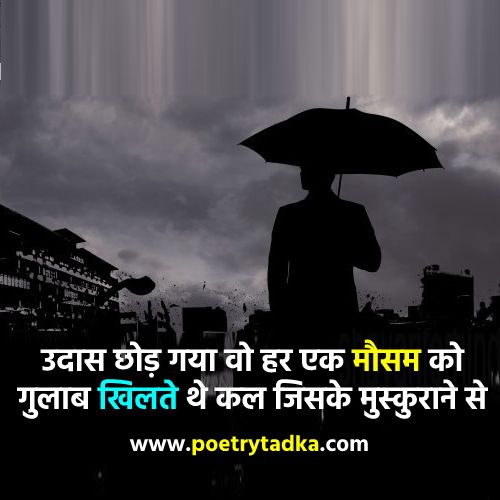 वाह मौसम आज तेरी अदा पर
दिल खुश हो गया याद मुझे आई
और बरस तू गया!
Waah Mausm Aaj Teri Ada Par
Dil Khush Ho Gaya.
Yaad Mujhe Aayi
Aur Baras Too Gaya!
आज कुछ और नहीं बस इतना सुनो,
मौसम हसीन है लेकिन तुम जैसा नहीं ।
Today Nothing Else Just Listen
The Weather Is Cool But Not Like You.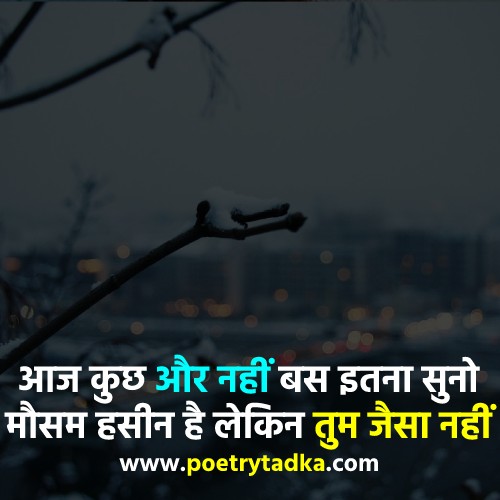 बहुत नज़र अंदाज़ करने लगे हो मुझे, बाज आ जाओ वरना इन्ही नज़रों से ढूढ़ते रह जाओ गे