Quotes on Mother
सबने बताया कि आज मां का दिन है कौन बताएगा कि वो कौन सा दिन है जो मां के बिन है? Hi friends looking Maa quotes collection at Google search especially quotes on Mother day in Hindi. Be with us and read latest maa quotes in Hindi for mother day. So go below and read a huge collection of mothers day quotes in Hindi for poetry tadka lovers. माँ सहेली भी है, माँ दोस्त भी है, माँ सबकी जगह ले सकती है परंतु माँ की जगह कोई नहीं ले सकता.
माँ के लिए बेटियाँ खजाने से भी कीमती हैं,
घरों की सबसे बड़ी संपत्ति और सबसे प्यारी हैं।
Maa Ke Liye Betiyan Khazaon Se Keemti Hain
Gharon Ki Sabse Badi Sampatti Aur Sabse Pyari Hain.
एक माँ और बेटी के बीच का प्यार
हमेशा हमेश के लिए होता है
Aik Maa Aur Beti Ke Beech Ka Pyari
Hamesha Hamesh Ke Liye Hota Hai.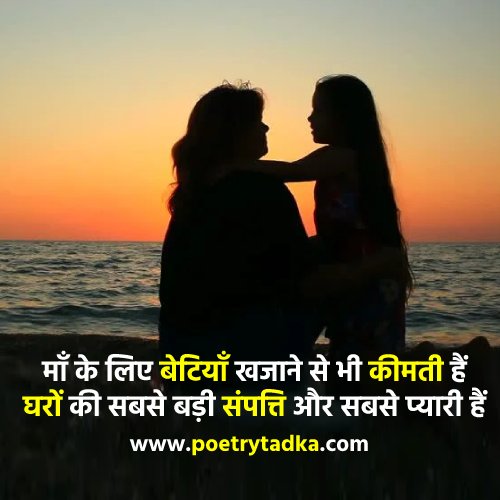 उस के रहते जीवन में कभी कोई गम नहीं होता
दुनिया साथ दे या ना दे पर माँ का प्यार
कभी कम नहीं होता ।
Uske Rahte Jeewan Me Kabhi Koi Gam Nahin Hota
Duniya Sath De Ya Na De Par Maa Ka Pyar
Kabhi Kam Nahin Hota.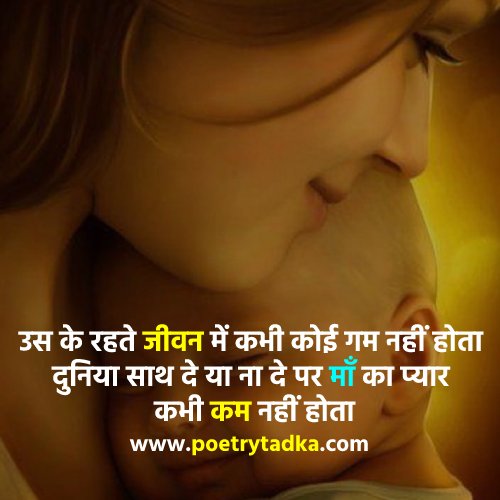 माँ हमारी सबसे पहली,
सबसे अच्छी और
हमेशा रहने वाली दोस्त होती है
Mother Is Our First,
Best And
Forever Friends.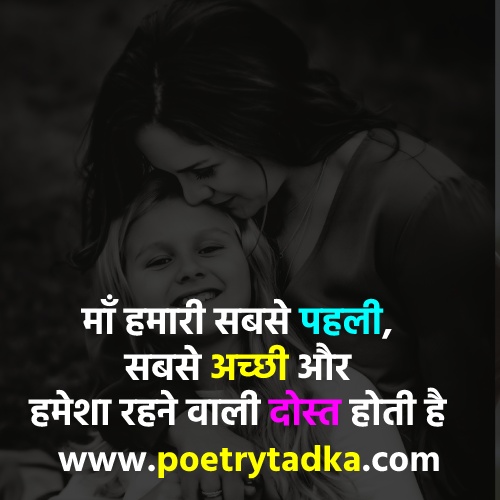 Kahan Se Shuru Kahan Pe Khatam Karun.
Tyag Aur Prem Maa Ka Bhala
Main Kaisey Bayan Krun.
कहाँ से शुरू करूँ कहाँ पे ख़त्म करूँ
त्याग और प्रेम उस माँ का भला
मैं कैसे बयान करूँ!
Seedha Sadha Bhola Bhala Mai He Sabse Achcha Hun.
Kitna Bhi Ho Jaoun Bada Main Aaj Bhi Tere Bachcha Hun.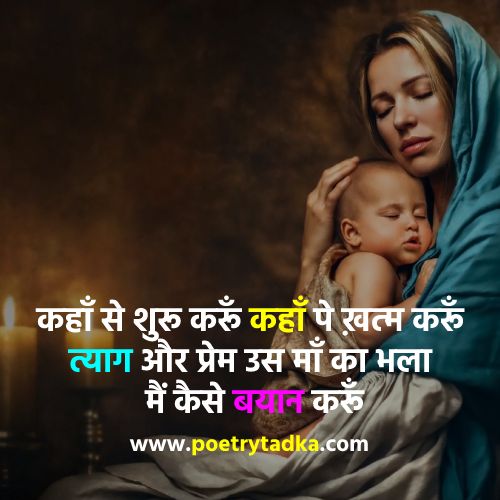 तूने जब धरती पे साँस ली तब तेरे माता पिता साथ थे
माता पिता जबतक इस दुनिया में रहे तबतक उनका साथ देना

Toone Jab Dharati Pe Saans Li Tab Tere Maata Pita Saath The
Maata Pita Jabatak Is Duniya Mein Rahe Tabatak Unaka Saath Dena