Latest Jokes
Latest jokes in hindi with image at poetrytadka. Express your feeling with unlimited latest jokes and find out answer of Tell Me a latest Joke.
पति- तुम मेरे किस सवाल से
सबसे ज्यादा डरती हो
पत्नी - बच्चे सो गए क्या
Pati- Tum Mere Kis Savaal Se
Sabase Jyaada Daratee Ho.
Patni - Bachche So Gae Kya.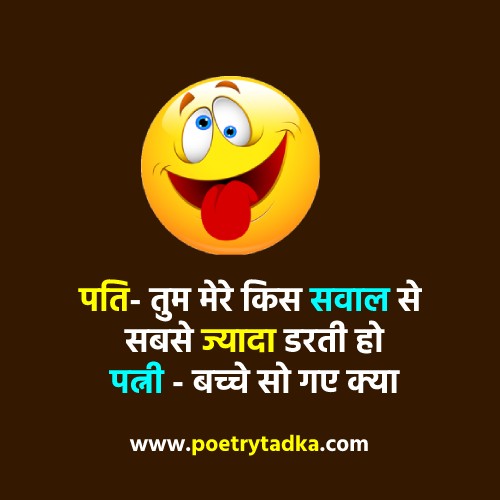 ek Aadmi :bhyya Baal Chote Kar Do !
nai :kitne Chote Kar Doon Saheb !
aadmi :itne Kar Do Ki Biwi Ke Haath Na Aa Ske !!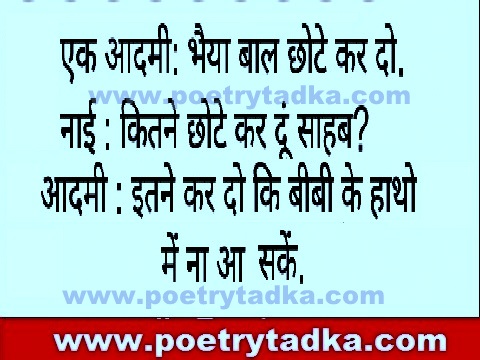 kidnepar :teri Biwi Mere Kabje Me Hai Sboot Ke Tur Par Do Ungli Bhej Rha Hoon !
pati ;sboot Pakka Nahi Hai Mundi Bhez Mundi !!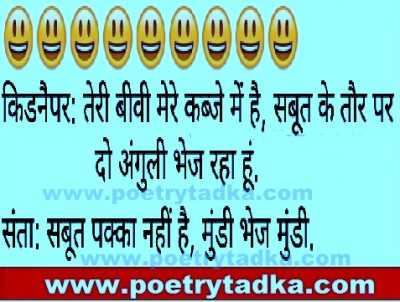 doctor :aapke Teen Dant Kaise Toot Gaae !
mareez :patni Ne Kdak Roti Bnai Thi !
doctor :to Khane Se Inkar Kar Dete !
mareez:ji Wahi To Kiya Tha !!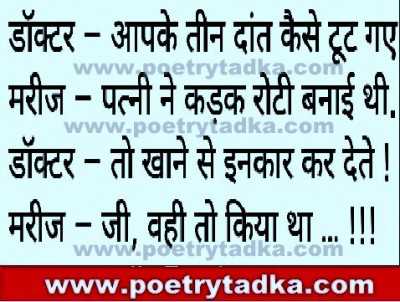 mareez :mujhe Bemari Hai Ki Khane Ke Baad Bhookh Nahi Lagti Sone Ke Baad Need Nahi Aati Kaam Kron To Thak Jata Hoon !
doctor :sari Raat Dhoop Me Baitho Thik Ho Jaaoge !!