Hausla Shayari
Now you are Hosla Shayari colection page. And red हौसला बढ़ाने वाली शायरी and हौसला बुलंद शायरी and many more Hausla Shayari in Hindi. So go below and read latest Himmat Shayari at poetry tadka.

दुनिया में कोई काम असंभव नहीं
बस हौसला और मेहनत की जरूरत है.
Duniyan Me Koi Bhi Kaam Asambhav Nahin Hai.
Bas Hausal Aur Mehnat Ki Zaroorat Hai.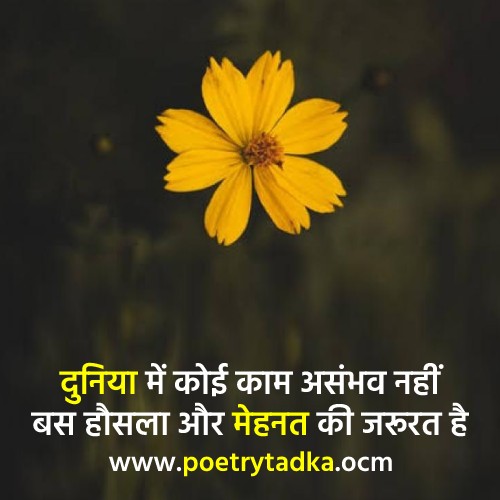 कर हौसला बुलंद तू ना घबरा,
कामयाबी मिल ही जाएगी
तू एक बार छलांग तो लगा |
Kar Hausla Buland Too Na Ghabra
Kamyabi Mil He Jayegi
Too Aik Bar Chhalang To Laga.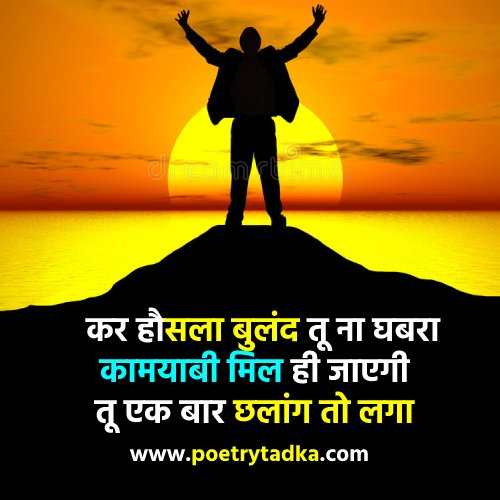 हिम्मत मत खोना बहुत आगे जाना है,
जिसने कहा था तेरे बस का नहीं
उन्हें करके दिखाना है।।।
Don't Lose Courage, Go A Long Way
Who Said It Is Not For You,
Have To Show Them By Doing...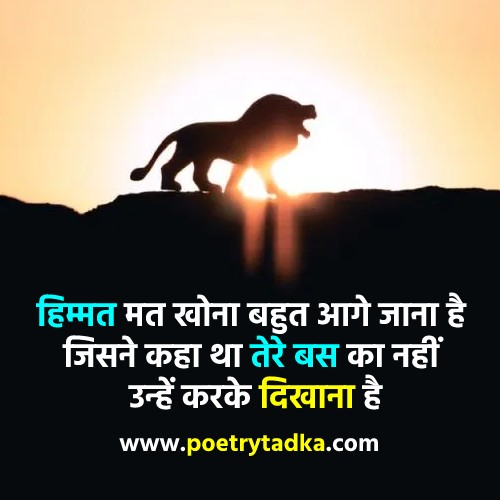 जरूरत पड़ने पर चिड़िया भी बना लेती है घोंसला,
तू भी पा जायेगा अपना मुकाम मन में रख हौसला.
Jaroorat Padne Par Chidiyan Bhi Bana Leti Hai Ghosal,
Too Bhi P Jayega Apna Mukam Mann Me Rakh Hosala.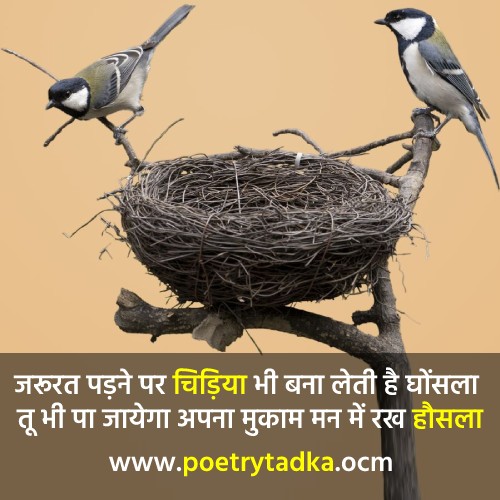 दुनिया में सब चीज मिल जाती है.
केवल अपनी गलती नहीं मिलती.
Duniyan Ki Sab Chhez Mil Jatai Hai
Kewal Apni Galti Nahin Milti.
ज़िन्दगी में मेरी गलती बस यही थी की
मैंने हर किसी को खुद से ज्यादा ज़रूरी समझा
Zindagi Mein Meri Galti Bas Yahi Thi Ki
Maine Har Kisi Ko Khud Se Jyada Zaruri Samjha