Health Tips
Now you are poetry tadka Health tips page. And here posted some tips in Hindi on health related. So go below and read your health tips in Hindi.

रोज़ सोने से पहले एक गिलास
गुनगुना पानी पीने से सांस की
नली खुलती है और खर्राटे नहीं आते.

Roz Sone Se Pahale Ek Gilaas
Gunhuna Pani Pine Se Saans Ki
Nali Khulati Hai Aur Kharraate Nahin Aate.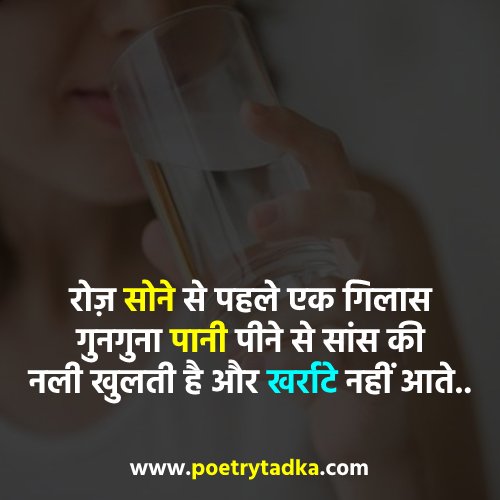 15 से 20 किलो मोटापा घटाने के लिए एक महीने तक अन्न खाना बंद कर दें, रोटी खाना बंद कर दें और सिर्फ लोकी, टमाटर, अनार, पपीता आदि का सूप व रस पिए. मूंग की दाल का पानी, दूध दही आदि लॉव कार्बोहायड्रेट डाइट लें. ऐसा करने से 20 किलो तक वजन कम होगा.
To Loss 15 To 20kg Weight, Stop Eating Grain For A Month, Stop Eating Roti And Drink Only Soup And Juice Of Loki, Tomato, Pomegranate, Papaya Etc. Take Low Carbohydrate Diet Like Moong Dal Water, Milk Curd Etc. Doing This Will Loss The Weight Up To 20 Kg.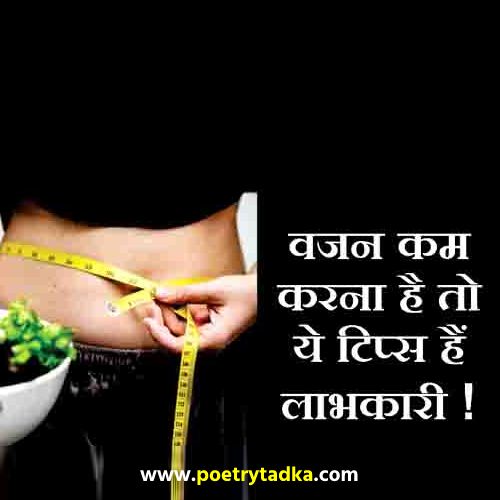 एक कप गुनगुने पानी में आधा
चम्मच नमक और एक चोथाई
चम्मच हल्दी मिला ले सुबह साम
गरारे करे इसके करने के बाद
आधा घन्टे कुछ ना खाए
गले के दर्द में आराम मिलेगा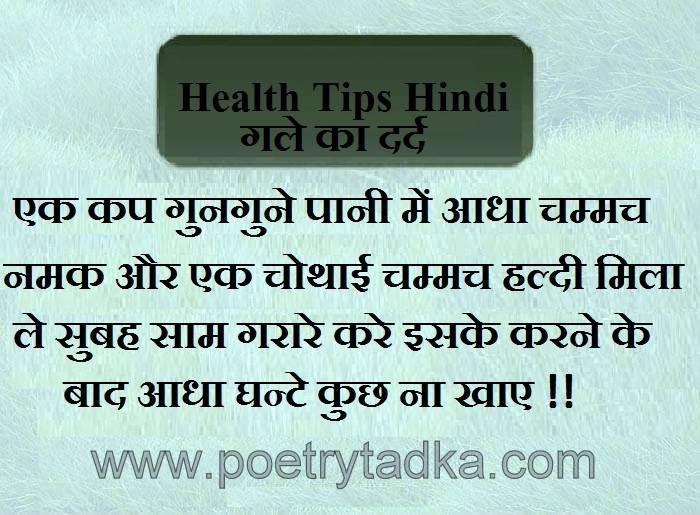 रोज़ाना दिन में 40 से 45 मिनिट
चलने से ब्लड प्रेशर नियंत्रित होता है।
Daily Din Mein 40 Se 45 Minutes
Chalane Se Blad Preshar Niyantrit Hota Hai.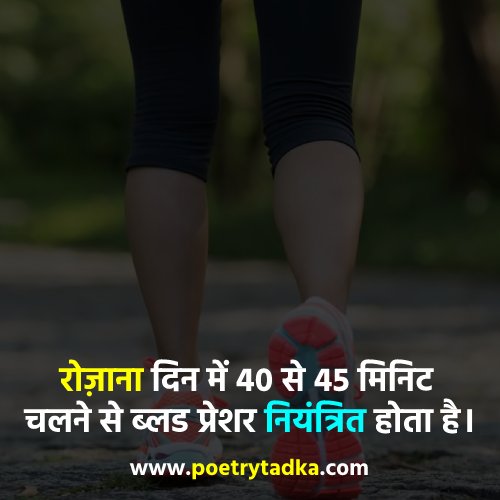 गेहूँ के दाने के बराबर चूना गन्ने के रस
में मिलाकर पिलाने से पीलिया
बहुत जल्दी ठीक होता है.