Gussa Shayari
Hi friends now you are Gussa Shayari with Gussa Status at poetry tadka website. So go below and read latest Gussa Quotes in Hindi. And we hope you like our गुस्सा शायरी post.
जिन्हें गुस्सा आता हैं वो लोग सच्चे होते है,
मैंने झूठो को अक्सर मुस्कराते हुए देखा है।
Jinhen Guss Aata Hai Wo Log Sachche Hote Hain.
Maine Jhooton Ko Aksar Muskurate Huye Dekha Hai.
गुस्सा आना सबके लिए जरूरी है
लेकिन गुस्सा निकालना कहा है
ये समझना जरूरी है
Gussa Aana Sabke Liye Zaroori Hai.
Lekin Gussa Nikalna Kahan Hai.
Ye Samajhna Jaroori Hai.
कोई और तकलीफ दे तो गुस्सा आता है,
पर जब कोय अपना तकलीफ दे तो रोना आता है
If Someone Else Hurts,
Then We Get Angry.
But When Someone Gives Trouble,
We Fell To Cry.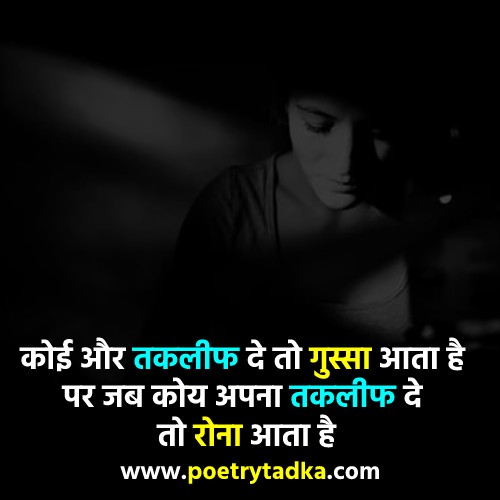 गुस्से में बोला गया एक भी शब्द
इतना जहरीला होता है कि
प्यार से बोले हज़ार शब्दों
को नष्ट कर देता है.
A Single Word Spoken In Anger
Is So Poisonous, A Thousand Words
Spoken With Lovedestroys.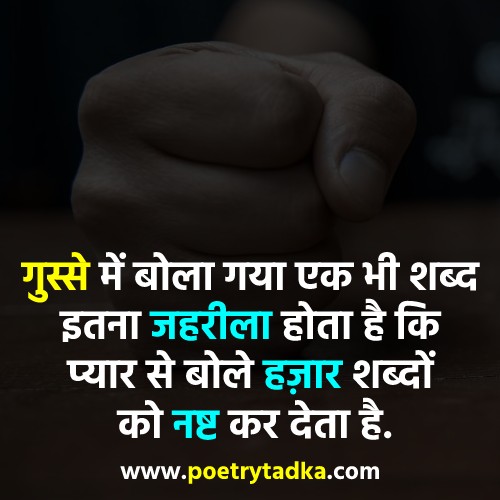 बहुत गुस्सा आता है ना जब हम
किसी की खुद से भी ज्यादा परवाह करें
और वो हमारी परवाह को समझे बिना ही
हमारे साथ बदतमीज से पेश आए।
Bahut Gussa Aata Hai Na Jab Hum
Kisi Ki Khud Se Bhi Jyada Parwaah Karen
Aur Wo Humari Parwaah Ko Samjhe Bina Hi
Humare Sath Badtameezi Se Pesh Aaye.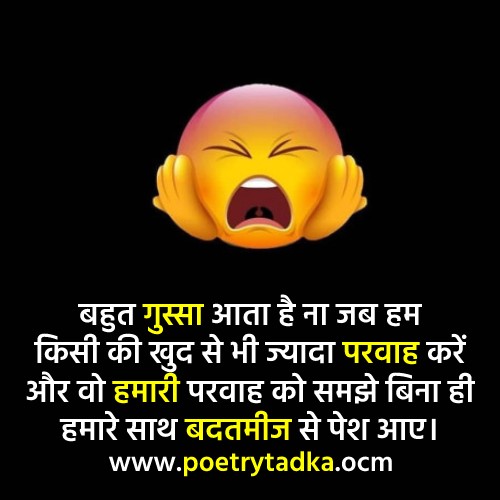 आज दिल कर रहा था बच्चों की तरह रूठ ही जाऊ
पर फिर सोचा क्या फायदा मनाएगा कौन
Aaj Dil Kar Raha Tha Bachchon Ki Tarah Rooth Hee Jaoun.
Par Fir Socha Kya Faida Manayega Kaun.