Filmi Bollywood Shayari
Filmi Shayari, फिल्मी शायरी, Bollywood Shayari, Movie Shayari in Hindi like fanaa movie shayari, diljale shayari, ae dil hai mushkil shayari and many more Latest post filmi shayari at poetry tadka.
पानी से प्यास नाह भुजी तो मैखाने की तरफ चल निकला.
सोचा शिकायत करूँ तेरी खुदा से.
पर खुदा भी तेरा आशिक निकला.
When I Was Not Thirsty With Water,
Started Walking Towards Maikhana.
Thought I Should Complain To God,
But God Also Turned Out To Be Your Lover.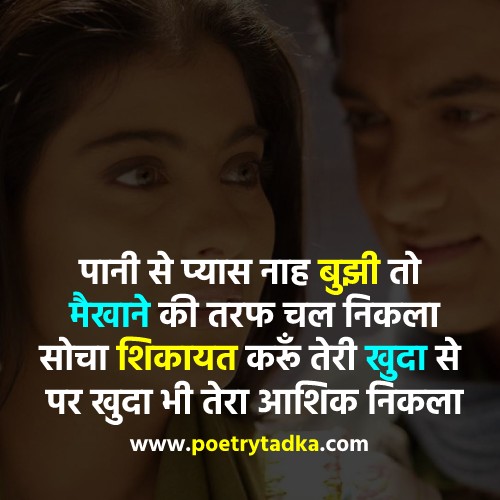 एक पल में जो आकर गुजर जाए,
यह हवा का वह झोका है और कुछ नहीं,
प्यार कहती है दुनिया जिसे,
एक रंगीन धोखा है और कुछ नहीं..!!
Whatever Comes And Passes In A Moment,
It's That Gust Of Wind And Nothing Else,
Love Tells The World,
It's A Colorful Hoax And Nothing Else..!!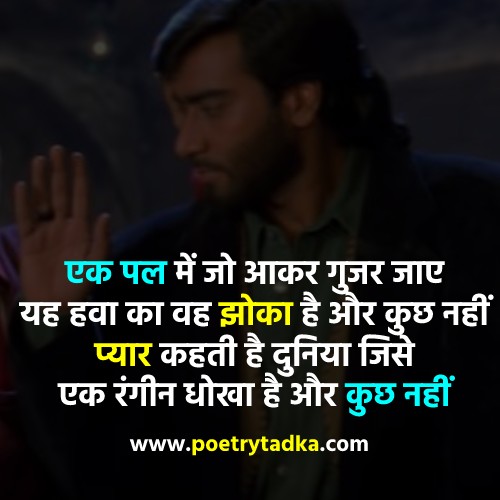 प्यार में जूनून है,
पर दोस्ती में सुकून है.
मैं कभी नहीं चाहती कि
हम दोनों के बीच जो सुकून
है वह चला जाए.
There Is Passion In Love,
But There Is Peace In Friendship.
I Never Want That The Peace Is Gone.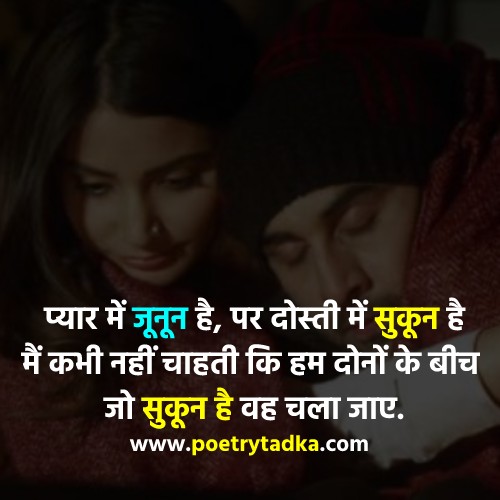 मुक्तलिफ है इश्क़ का गणित यारों
यहाँ तुम और मैं दो नहीं, एक होते हैं.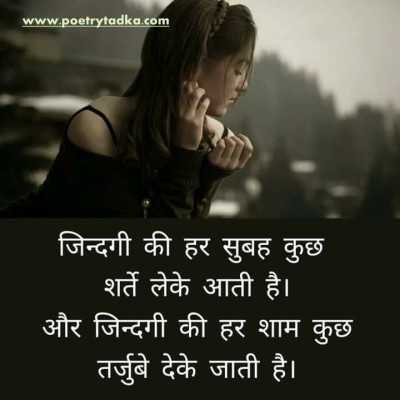 वक्त इंसान को सिखा देता है अजब-गजब चीजें
फिर क्या नसीब, क्या मुकद्दर और क्या हाथ की लकीरें