Farewell Shayari
Hey friends if you are looking farewell shayari or farewell party shayari in Hindi then your are right palce. Be with us and go to this page and read farewell shayari or farewell shayari in Hindi at Poetry Tadka.

मिलते जुलते रहेंगे आपकी भावनाओं के साथ
आज से होगी आपके जीवन की सुबह शुरुआत

Milte Julte Rahenge Aapaki
Bhawnaon Ke Saath.
Aaj Se Hogi Aapke Jeevan Ki
Subah Shuruaat.

हमारे सीनियर ने थोड़ा सताया भी पर
बड़े भाई की तरह प्यार जताया भी
थोड़ा परेशान किया रस्तों पर
पर सही रास्ता बताया भी
Our Seniors Were A Little Harassed But
Expressed Love Like Elder Brother
On Slightly Disturbed Roads
But Told The Right Way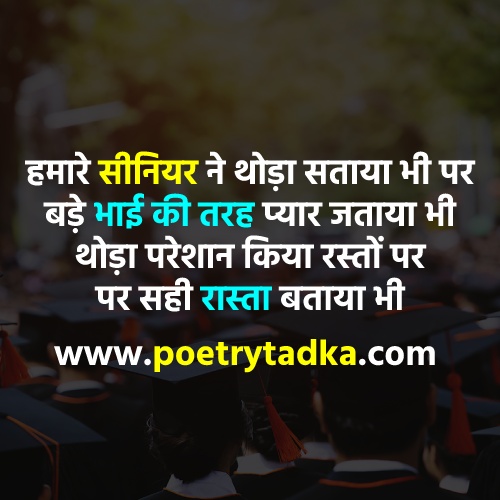 अगर मेरी वजह से कोई तकलीफ
हुई हो तो प्लीज मुझे माफ करना।
Agar Meri Vajah
Se Koi Takleef
Hui Ho To Please
Mujhe Maaf Karna.
साथ गुजरे वो पल भुला न देना
जाओ कुछ बनकर जहाँ को दिखा देना।
Saath Gujre Vo Pal
Bhula Na Dena.
Jao Kuchh Bankar
Jahaan Ko Dikha Dena.
यादों की झड़ी सी है
आँखों में छाई सी हो रही है
आज आपकी विदाई
हम करते हैं रब से पराथना
पूरी हो जीवन की हर कामना
Yaadon Ki Jhadi Si Hai.
Aankhon Mein Chhai Si Ho Rahi Hai.
Aaj Aapaki Vidai Ham Karate Hain
Rab Se Paraathana Poori Ho
Jeevan Ki Har Kaamana.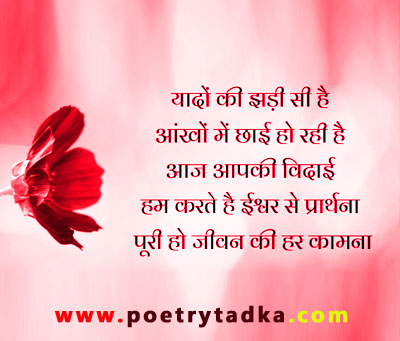 स्कूल एक परिवार होता है
जहाँ हर रविवार होता है
हर दिल में प्यार होता है
पर आखरी दिन बेकार होता है
School Ek Parivaar Hota Hai.
Jahaan Har Ravivaar Hota Hai
Har Dil Mein Pyaar Hota Hai.
Par Aakhari Din Bekaar Hota Hai.