Famous Shayari
Looking famous Shayari in Hindi if yes be with us. As we have collected some most popular Shayari at our famous Shayari page of poetry tadka. So go below and read popular Shayari collection in Hindi.
सुबह शाम तुझे याद करते है हम
और क्या बताएं की तुमसे कितना
प्यार करते है हम |
Subah Sham Tujhey Yaad Karte Hain Hum
Ur Ky Batayen Ki Tumse Kitna
Pyar Karte Hain Hum.
दिलों में आग, लबों पर गुलाब रखते हैं
सब अपने चहेरों पर
दोहरी नकाब रखते हैं
Dilon Mein Aag,
Labon Par Gulaab Rakhate Hain.
Sab Apane Chaheron Par
Doharee Nakaab Rakhate Hain.

क्रोध एक ऐसा तेजाब है
जो जिस चीज पे डाला जाता है
उससे ज्यादा उस को नुकसान होता है
जिसमे वो रखा हो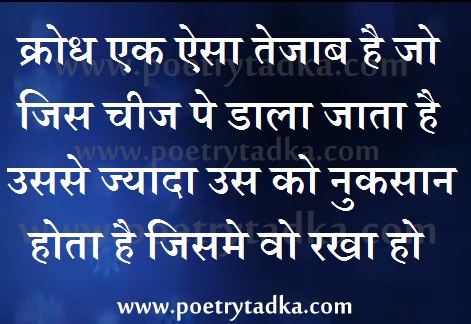 पेड़ की शाखा पर बैठा पंछी कभी भी इसलिए
नहीं डरता कि डाल हिल रही है।
क्योंकि पंछी डाल पर नहीं अपने पंखों पर
भरोसा करता है
जो लोग दुसरो की आँखों में आँशु लाते है
वो क्यू भूल जाते है
की उनके पास भी दो आँखे है