Eid Mubarak Shayari
Eid is a marks the end of Ramadan, the Muslim holy month of fasting. And here we have placed some Eid Mubarak Shayari in Hindi and Urdu for our poetry tadka lovers. So go beow and read latest ईद मुबारक शायरी collections. And we hope you guys like our eid shayari collections.
सब तरफ फैले खुशियों के गीत
इसी आशा के साथ मुबारक हो अपको ईद
ईद मुबारक
Sab Taraf Faila Khushiyon Ke Geet
Isi Aasha Ke Saath Mubarak Ho Apako Eid.
Eid Mubarak To All.

اسلام و علیکم
میری طرف سے آپ کو اور آپکی تمام فیلی کو
عيد الفطر کی خوشیاں بہت بہت مبارک ہوں
Happy Eid Mubarak
میری طرف سے تمام اہل اسلام کو بے
عید مبارک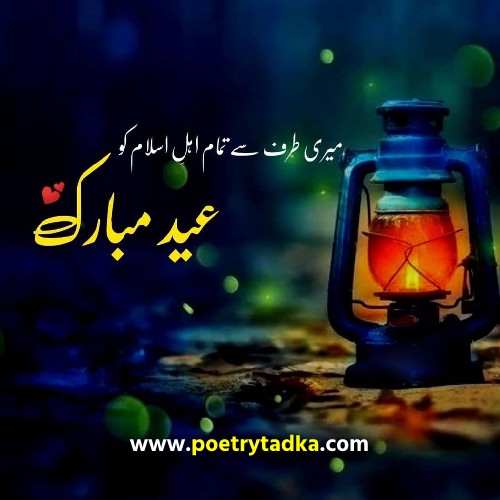 तुम्हारी दीदार् से मसरूफ मेरी ईद है जानम,
जरा एक बार नकाबे रूख फेर देना ताकि मुझे मेरी ई-दी मिल जाए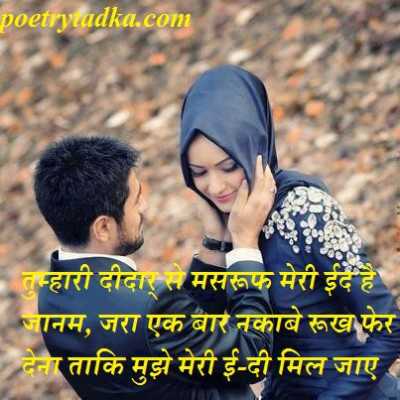 कोई इतना चाहे हमे तो बताना कोई तुम्हारी फ़िक्र करे तो बताना ईद मुबारक हो हर कोई कह देता है कोई हमारे अंदाज़ में कहे तो बताना