Dua Shayari
It is said that when nothing is under your control, Dua is your only support. And Dua makes the hardest work easy. So today we are writing some Dua Shayari in Hindi for our readers, which you will like. And you could upload these Dua Shayari to your Facebook profile and status. So go below and read and share दुआ शायरी by Poetry Tadka.
Faqt Allah Hai Jo Ek
Sajday Se Maan Jata Hai
Aur Ek Insan Hai Jo
Jan Le Kar Bhi Sukoon Nahi Pata.
Agar Rab De Toh Koi Cheen Nahi Sakta,
Agar Wo Cheen Le Toh Koi De Nahi Sakta.
Bharosa Sirf Allah Ki Zaat Per Karna
Logon Ka Kya Hai Kbhi
Chor Jatay Hain Toh Kabi
Tor Jatay Hain❤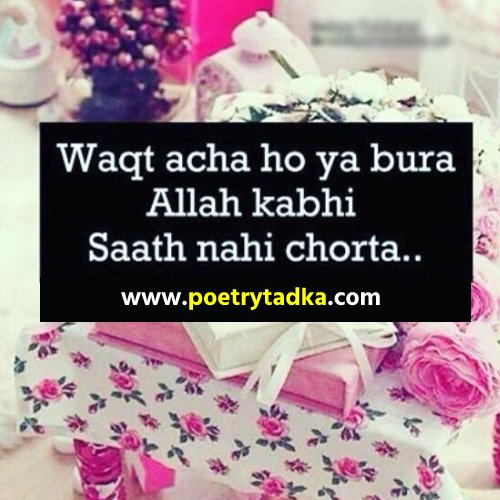 रात सारी जागने की बद-दुआ देकर गया वो,
नींद के हक़ में दुआ जिसके लिए करते रहे हम।
Raat Saari Jagne Ki Bad-dua Dekar Gaya Vo,
Neend Ke Haq Mein Dua Jiske Lie Karte Rahe Ham.
हज़ार इश्क़ करो लेकिन इतना ध्यान रहे
कि तुमको पहली मोहब्बत की बददुआ ना लगे
Hazar Ishq Karo Lekin Itna Dhyan Rahe
Ki Tumko Pahli Mohabbat Ki Bad-dua Na Lage.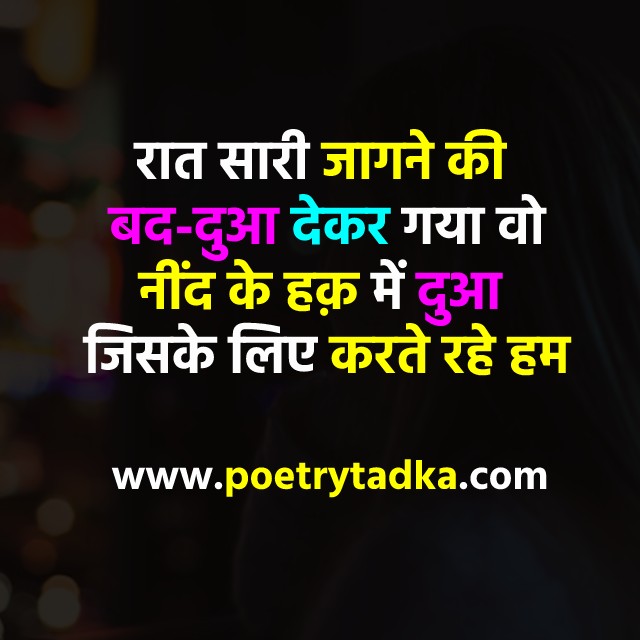 ए रब मेरे मां-बाप ही, मेरी ज़िन्दगी है
उनको हमेशा सलामत रखना.
Aye Rab Mere Walidain He Meri Zindagi Hain
Unako Hamesha Salaamat Rakhana.
दुआ है हर किसी के
माँ बाप को लंबी उम्र मिले
Dua Hai Har Kisi Ke
Maa Baap Ko Lambi Umar Mile.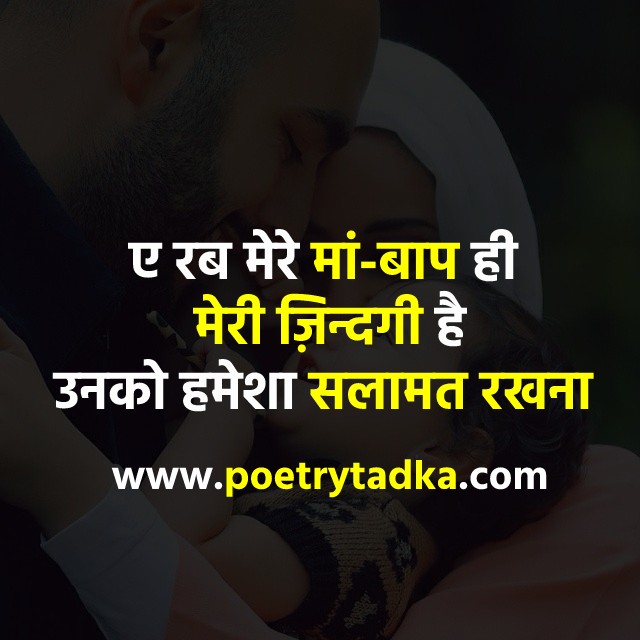 सच्चाई से रूबरू,
करवाते हैं तेरे बोल.
मेरे बड़े भाई तू,
सच में है अनमोल.
Sachchaee Se Roobaroo,
Karavaate Hain Tere Bol.
Mere Bade Bhaee Too
Sach Mein Hai Anamol.
ख्वाहिशों के समंदर के सब मोती तेरे नसीब हो,
तेरे चाहने वाले हमसफर तेरे हरदम करीब हो,
कुछ यूँ उतरे तेरे लिये रहमतों का मौसम कि,
तेरी हर दुआ हर ख्वाहिश कबूल हो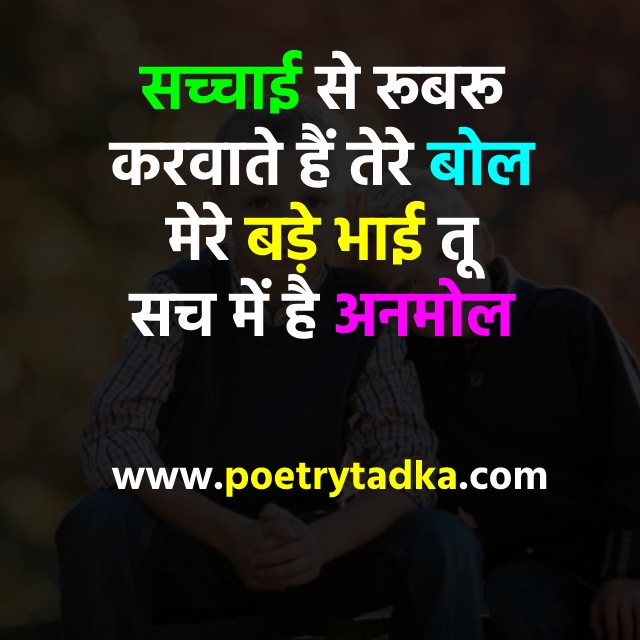 धागा ही समझ, तू अपनी "मन्नत" का मुझे,
तेरी दुआओ के मुकम्मल होने का दस्तूर हूँ मैं.
Dhaaga Hee Samajh, Too Apanee "mannat" Ka Mujhe,
Teree Duao Ke Mukammal Hone Ka Dastoor Hoon Main.