DP Shayari
Welcome to DP Shayari in Hindi on Love or Sad. Hey guys looking latest DP Shayari like Sad Shayari DP in Hindi fonts, dard shayari DP image, bewafa DP, love shayari DP, shayari DP for whatsapp and many more only on poetry tadka website.
खुश रहा करो, दुखी रहने से
कौन सा कोई आके गले लगा लेगा।
Khush Raha Karo, Dukhi Rahne Se
Kaun Sa Koi Aake Gale Laga Lega.
जिंदगी तुम्हे वो नहीं देगी
जो तुम्हे चाहिए ...
जिंदगी तुम्हे वो देगी
जिसके काबिल तुम हो.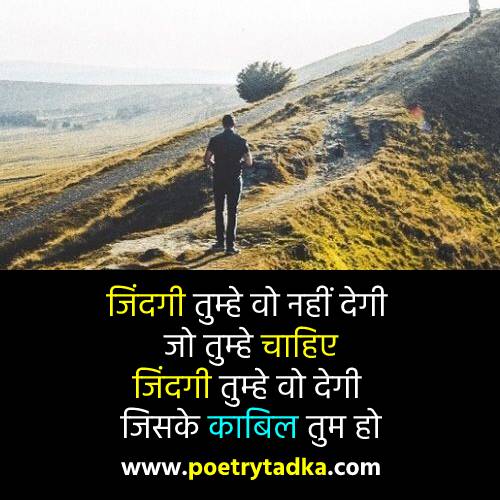 बदला नहीं हूँ मैं
बस दुनियाँ को
समझ गया हूँ मै.
Badla Nahin Hun Main Bus
Duniyan Ko Samajh Gaya Hun Mai.
फिरसे खुद को तराश रहा हूँ मै
वो नहीं हूँ जो बन गया था मै.
Firse Khud Ko Trash Raha Hun Mai
Wo Nahin Hun Jo Ban Gaya Tha Mai.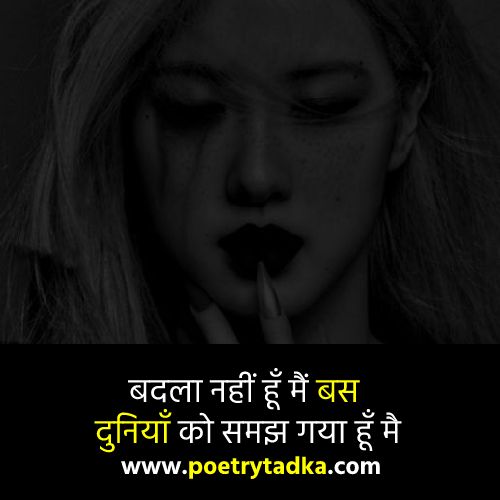 अगर में किसी को अच्छी नहीं लगती तो
कोई बात नहीं अब हर किसी की
चॉइस अच्छी नहीं होती
Agar Mein Kisi Ko Achi Nahi Lagti To
Koi Baat Nahi Ab Har Kisi Ki
Choice Achi Nahi Hoti.
लड़का तमीज वाला होना चाहिए
बदतमीज तो मेरा दिल भी है..
Ladka Tameez Wala Hona Chahiye
Badtameez To Mera Dil Bhi Hai.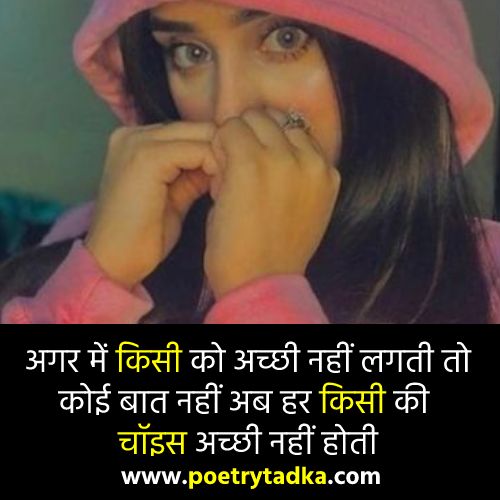 मेरे बारे में बुरा सोचने वालों को
मेरी तरफ से आल दी बेस्ट.
Merey Barey Men Bura sochne Walon Ko
Meri Taraf Se All The Best.
गम इतने मील के एहसास नहीं होता,
कोई हमें प्यार करे अब विश्वास नहीं होता..
Gum Itne Mile Ke Ehsaas Nahi Hota,
Koi Hume Pyar Kare Ab Vishwas Nahi Hota..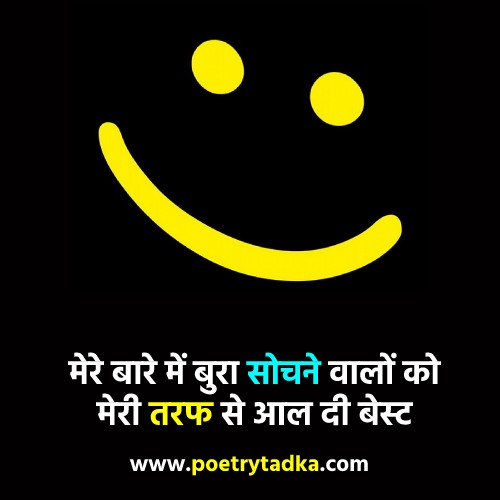 तेरे बदलने का दुःख नहीं है मुझको
मैं तो अपने यक़ीन पर शर्मिंदा हूँ।
Tere Badalane Ka Duhkh nahin Hai Mujhako
Main To Apane Yaqeen Par sharminda Hoon.
बेपनाह प्यार करना भी
कभी कभी सजा बन जाता है
BePanaah Pyaar Karna Bhi
Kabhi Kabhi Saza Ban Jaata Hai.