Daughter Quotes
Emotional father daughter quotes in Hindi like daughters day quotes, father daughter quotes, mother daughter quotes in Hindi and many more daughter quotes at poetry tadka.
घर के आँगन को महकाती है बेटियाँ
माँ बाप को दुःख हो
तो सह नहीं पाती है बेटियाँ
धन दौलत नहीं सिर्फ घर का
सुख ही चाहती है बेटियाँ
Ghar Ke Aangan Ko
Mahkaati Hain Betiyan.
Maa-Baap Ko Duhkh Ho To
Sah Nahin Paatee Hain Betiyan.
Dhan Daulat Nahin Sirf Ghar Ka
Sukh Hee Chaahti Hain Betiyan.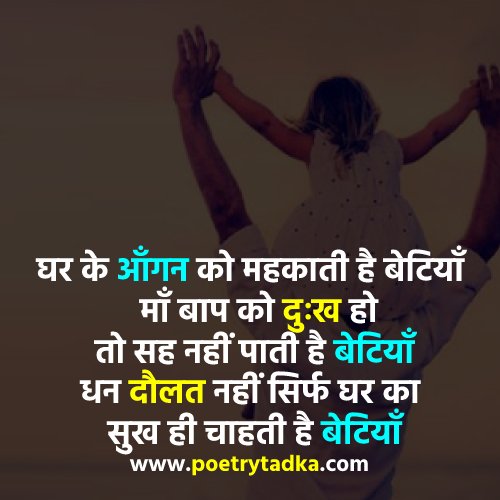 क्या लिखूं की वो परियों का रूप होती है
ये कड़कती सर्दियों में सुहानी धुप होती है।
What Should I Write, daughters are Like Fairies.
It Is Sunny In The Harsh Winters.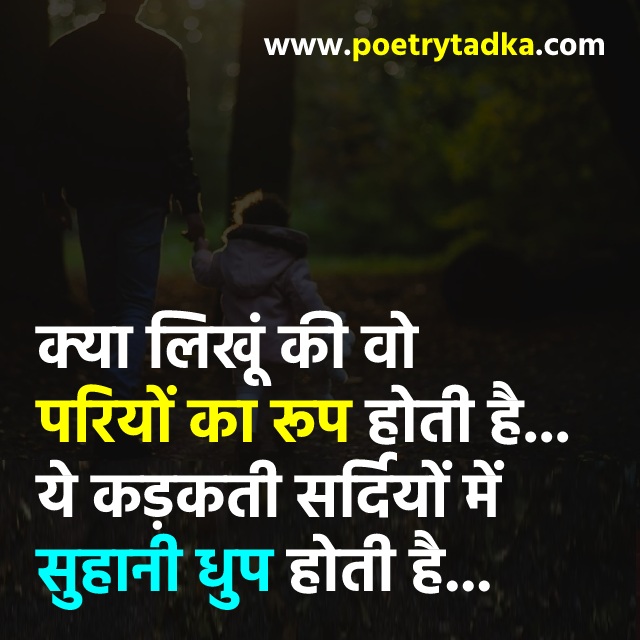 बोझ कितना भी हो मगर कभी उफ़ नहीं करता 
कन्धा बाप का साहेब बहूत मज़बूत होता है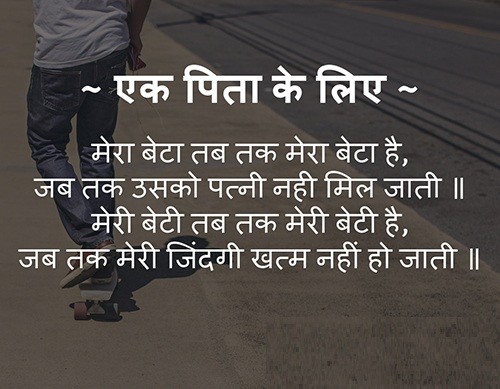 स्कूल से सामने बच्चे के खातिर घर ले लिया 
उन बूढ़े माँ बाप ने जिसके बच्चे विदेश चले गाए
चाहे लाख करो तुम पूजा और तीर्थ करो हजार 
मगर माँ बाप को ठुकराया तो सब कुछ है बेकार