Alone Shayari
In the saddest moments, loneliness is very painful. At that time, we need someone who can feel us. But we cannot do this, and we are trying to do our best with Alone Shayari in Hindi. So go below and read Sad Alone Shayari and Alone Boy Shayari in Hindi, and we hope you like our collection.
स्टेशन जैसी हो गयी है ज़िन्दगी,
जहां लोग तो बहुत है, पर अपना कोई नहीं..
Life Has Become Like A Station.
Where People Are Many,
But None Of Their Own..
कितनी अजीब है इस शहर की तन्हाई भी,
हजारों लोग हैं मगर कोई उस जैसा नहीं है।
How Strange Is The Loneliness Of This City,
There Are Thousands Of People But No One Is Like Her.
चुभते हुए ख्वाबों से कह दो
अब आया न करे, हम तन्हा तसल्ली से रहते है
बेकार उलझाया न करे ।
Tell It With A Gloomy Dream,
Don't Come Now, I Live Alone Peacefully.
Don't Mess Up Unnecessarily.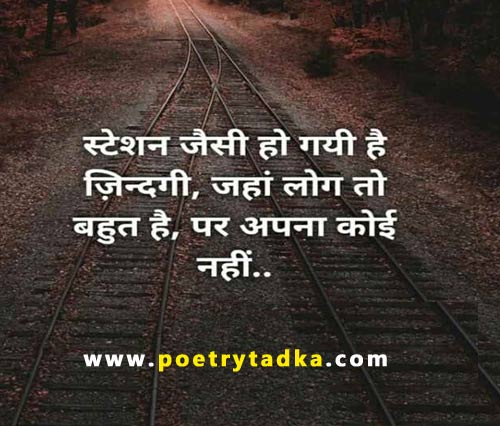 We Enter The
World ALONE.
We Leave World ALONE.
So It's Better To Be Alone.
Sometimes It's Better To Be Alone
Nobody Can Hurt You.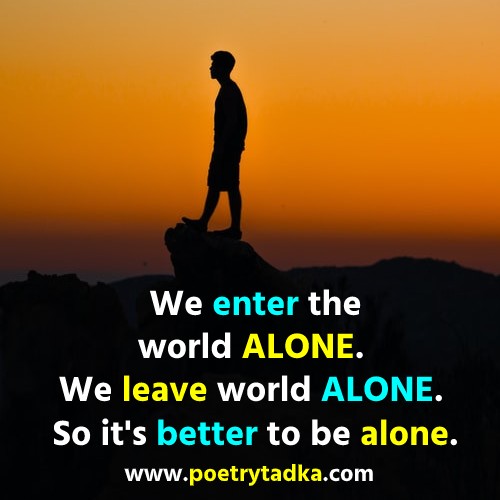 वहां से बिगड़ी है ज़िंदगी मेरी
जहाँ से साथ तुमने छोड़ा था
Vahaan Se Bigadee Hai Zindagee Meree
Jahaan Se Saath Tumane Chhoda Tha

हर वक़्त का हँसना तुझे बर्बाद न कर दे
तन्हाई के लम्हे में कभी रो भी लिया कर
Har Vaqt Ka Hansana Tujhe Barbaad Na Kar De
Alone Ke Lamhe Mein Kabhee Ro Bhee Liya Kar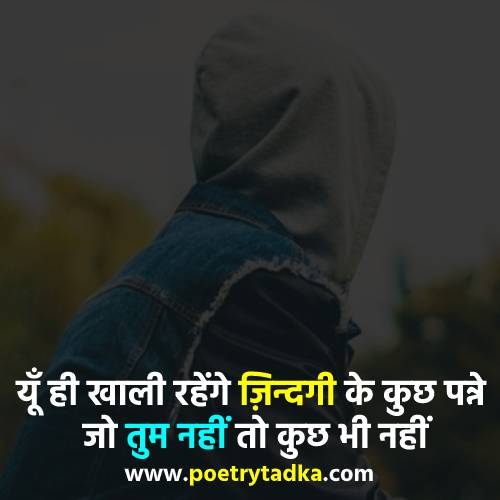 हम अपनी हस्ती मिटा कर भी तनहा हैं
सब कुछ लुटा कर भी तनहा हैं
Ham Apanee Hastee Mita Kar Bhee Tanaha Hain
Sab Kuchh Luta Kar Bhee Tanaha Hain

मुझसे नाराज है तो छोड़ दे तन्हा मुझको
ए ज़िन्दगी मेरा रोज़ रोज़ तमशा न बनाया कर
Mujhase Naaraaj Hai To Chhod De Tanha Mujhako
E Zindagee Mera Roz Roz Tamasha Na Banaaya Kar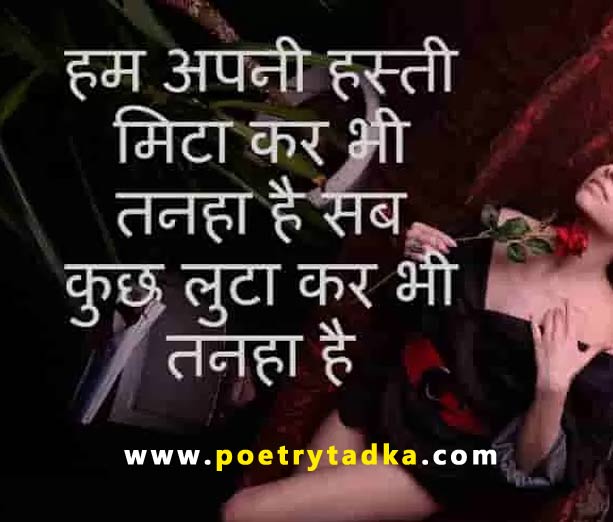 किसी का हाथ कैसे थाम लूँ
वो तनहा मिल गयी तो क्या कहूंगा
Kisee Ka Haath Kaise Thaam Loon
Vo Tanaha Mil Gayee To Kya Kahoonga

ज़िन्दगी यूँ हुई बसर तन्हा
काफिला साथ और सफ़र तनहा
Zindagee Yoon Huee Basar Tanha
Kaaphila Saath Aur Safar Tanaha
जानता पहले से था मैं,
लेकिन एहसास अब हो रहा है,
अकेला तो बहुत समय से हूं मैं,
पर महसूस अब हो रहा है।
I Already Knew But, Now It's Feel.
I've Been Alone For A Long Time,
But Now It Is Felt.