Chahat Shayari
Now you are Chahat Shayari collection page. And here read and download चाहत शायरी like Milne Ki Chahat Shayar and many more Chahat Shayari in Hindi at poetry tadka website.
एक चाहत होती है जनाब अपनों के साथ जीने की
वरना पता तो हमें भी है कि ऊपर अकेले ही जाना है।
Aik Chahat Hoti Hai Janab,
Apno Ke Sath Jeene Ki.
Warna Pata To Hamne Bhi Hai,
Ki Oopar Akele He Jana Hai.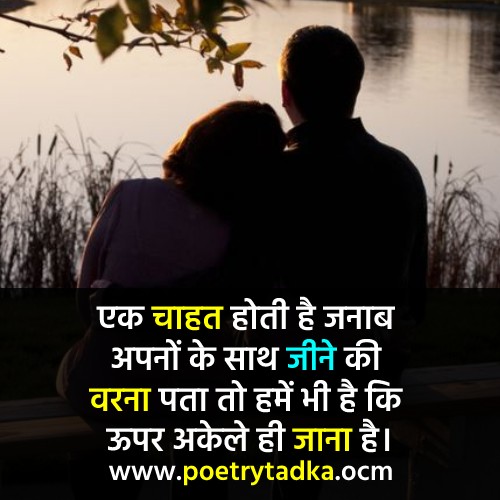 हर पल उस से मिलने की चाहत क्यों होती है,
हर पल उसकी ज़रूरत क्यों होती है,
जिसे हम पा नहीं सकते,
खुदा जाने उसी से मोहब्बत क्यों होती है.
Har Pal Us Se Milane Kee Chaahat
Kyon Hotee Hai.
Har Pal Usakee Zaroorat Kyon Hotee Hai.
Jise Ham Pa Nahin Sakate Khuda Jaane
Usee Se Mohabbat Kyon Hotee Hai.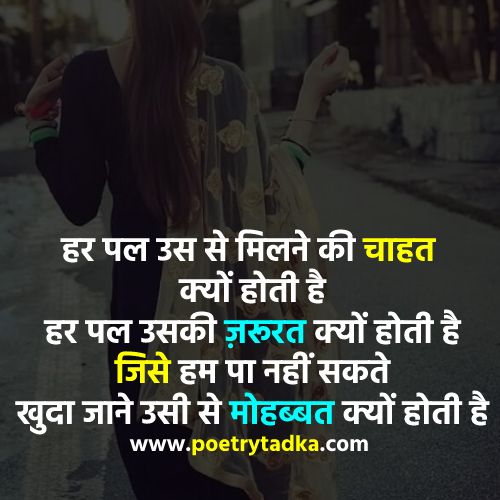 अपनी चाहत का यूं पता देना
जब सामना हो तो मुस्कुरा देना
Apni Chahat Ka Yoon Pata Dena
Jab Saamna Ho To Muskura Dena
उनकी चाहत में हम कुछ यूँ बंधे हैं
कि वो साथ भी नहीं
और हम अकेले भी नहीं
Unakee Chahat Mein Ham Kuchh
Yoon Bandhe Hain.
Ki Wo Saath Bhee Nahin
Aur Ham Akele Bhee Nahin.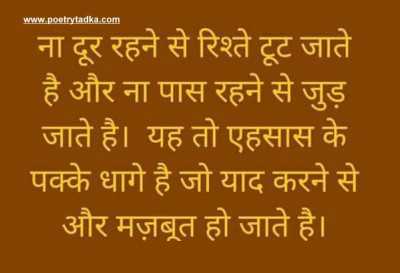 चाहत वो नहीं जो जान देती है
चाहत वो नहीं जो मुस्कान देती है
ऐ दोस्त चाहत तो वो है
जो पानी में गिरा आंसू पहचान लेती हैं
Chahat Wo Nahin Jo Jaan Detee Hai.
Chahat Vo Nahin Jo Muskaan Detee Hai.
Aye Dost Chahat To Vo Hai,
Jo Paanee Mein Gira Aansoo Pahachaan Letee Hai.