4 Line Shayari
This is 4 line Shayari page and here you can read latest 4 line Shayari on life in Hindi, 4 line heart touching Shayari in Hindi, 4 line broken heart Shayari and many more 4 Line Shayari on love, Life, Sad in Hindi at poetry tadka.
शाम की लाली मुझे
तुम्हारी मुस्कान लगती है..
ठंडी हवा के झोंकों से
तुम्हारी जुल्फें याद आती है..
Shaam Ki Laali Mujhe
Tumhaari Muskaan Lagati Hai.
Thandi Hava Ke Jhonkon Se
Tumhaari Julphen Yaad Aati Hai..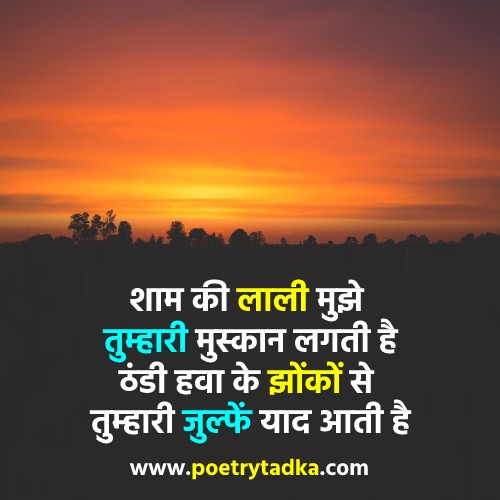 हर बात मानी है तेरी
सिर झुका कर ऐ ज़िंदगी,
हिसाब बराबर कर तू भी
तो कुछ शर्ते मान मेरी ।
Har Baat Maani Hai Teri
Sar Jhuka Kar Ai Zindagi.
Hisaab Baraabar Kar Too Bhi
To Kuchh Sharte Maan Meri.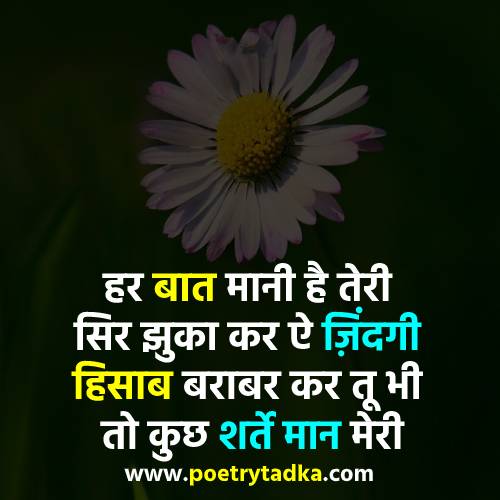 ज़िन्दगी के सफ़र में आपका सहारा चाहिए !
आपके चरणों का बस आसरा चाहिए !
हर मुश्किलों का हँसते हुए सामना करेंगे !
बस ठाकुर जी आपका एक इशारा चाहिए !!
तुम नहीं हो पास मगर तन्हाँ रात वही है !
वही है चाहत यादों की बरसात वही है !
हर खुशी भी दूर है मेरे आशियाने से !
खामोश लम्हों में दर्द-ए-हालात वही है !!
मोहब्बत के बिना रवानी क्या होगी !
मोहब्बत नहीं तो कहानी क्या होगी !
आग का दरियाहो या प्यार की कश्ती !
मोहब्बत नहीं तो जिंदगानी क्या होगी !!