Two Line Shayari
This is a collection of poetry tadka two-line posts, and on this website you can find two line shayari, two line shayari in Hindi, two line shayari in English, and many more two line love shayari. Hey guys, are you looking for short, two line shayari to express your feelings on love and sad moments? If yes, please visit this two line poetry page and read awesome 2 line shayari in Hindi.
तुम मुझे तोड़ गए
और मैं खुदा से जुड़ गया
Tum Mujhey To Gaye
Aur Main Khud Se Jud Gaya.
तुम्हें कभी जुदा नहीं होने देंगे खुद से,
तुम देर से मिले इतना नुकसान ही काफ़ी है !
Tumhe Kabhi Juda Nahin Hone Dengey Khud Se,
Tum Der Se Mile Itna Nuqsaan Kafi Hai.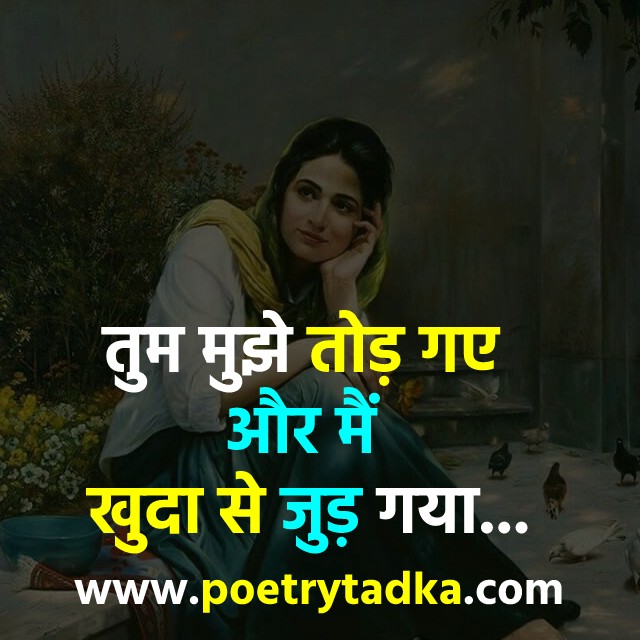 तरस आता है मुझे अपनी मासूम सी पलकों पर
जो भीग के कहती हैं अब रोया नहीं जाता।
Taras Aata Hai Mujhey Apni Masoom Si Palkon Par
Jo Bheegkar Kahti Hain Ab Roya Nahin Jata.
जिंदगी में गुलाब की तरह खिलना है
तो कांटों से तालमेल तो बनाना ही पड़ेगा..
Zindagi Me Gulab Ki Trah Khilna Hai
To Kanton Se Talmel To Banana He Padega.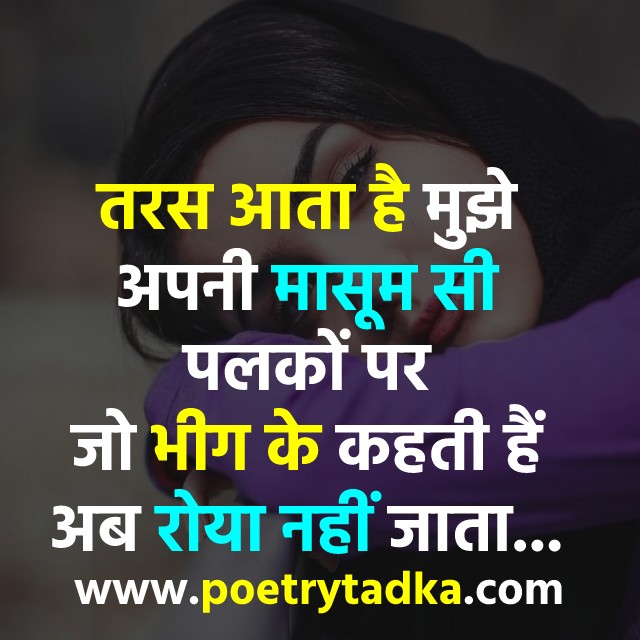 क़ायनात की सबसे महंगी चीज़ अहसास है
जो दुनिया के हर इंसान में नहीं होती।
Kaynaat Ki Sabse Mahgi Cheez Ahsas Hai
Har Insaan Me Nahin Hoti.
ज़िन्दगी में एक बात तो तय है
कि तय कुछ भी नहीं हैं..
Zindagi Me Aik Baat Tay Hai
Ki Tay Kuch Bhi Nahin Hai.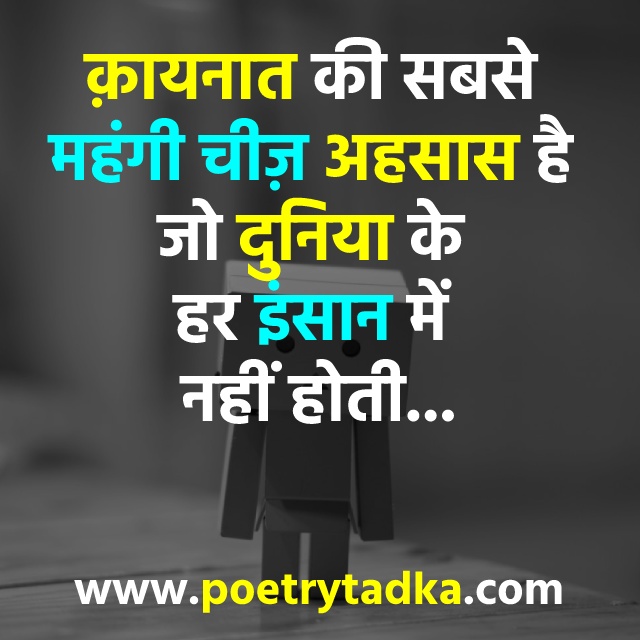 Roz Roz Girkar Bhi Mukammal Khada Hunn
Aye Mushkilon Dekho Mai Tumse Kitna Bada Hun.
रोज रोज गिरकर भी मुकम्मल खड़ा हूँ
ऐ मुश्किलों देखो मै तुमसे कितना बड़ा हूँ..
Apni Haar Par Itna Shakoon Tha Mujhe,
Jab Usne Gale Lagaya Jeetne Ke Baad.
Jism Ki Dararo Se Rooh Nazar Aane Lagi,
Bahut Andar Tak Tod Gaya Mujhe Ishq Tera.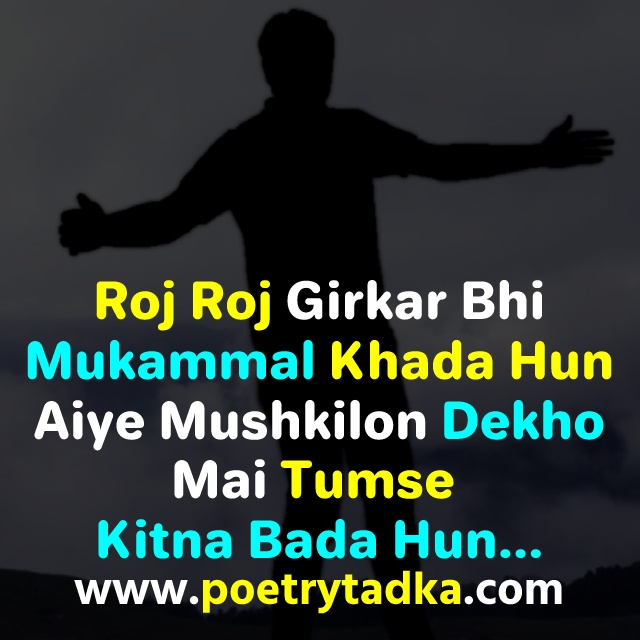 करीब तो बड़ी चीज है ए जान इ तमन्ना,
इस दिल की तसल्ल्ली को तेरा नाम बहुत है।
Kareeb To Badi Cheez Hai A Jan E Tamanna
Is Dil Ki Tasalli Ko Teranaam Bahot Hai.
तलब ये के तुम मिल जाओ....
हसरत ये के उम्र भर के लिए!!
Talab He Ke Tum Mil Jao
Hasrat Ye Ke Umra Bhar Ke Liye.