Bill Gates Quotes
2022-02-13 13:19:38

मैं पढ़ाई में कभी Topper नहीं रहा
लेकिन मेरी कम्पनी में आज टॉपर
मेरे Employee हैं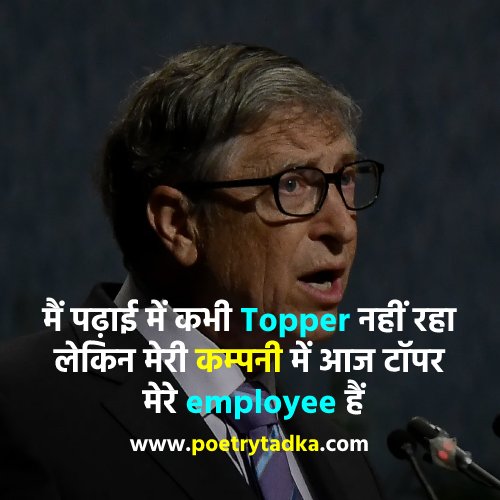 एक इंसान दो चीजों से बनता है...
एक तो किस्मत और दूसरा मेहनत
किस्मत सबकी होती नहीं
और मेहनत सबसे होता नहीं
Ek Insaan Do Cheejon Se Banta Hai...
Ek To Kismat Aur Doosra Mehnat.
Kismat Sabki Hoti Nahin.
Aur Mehnat Sabse Hota Nahin.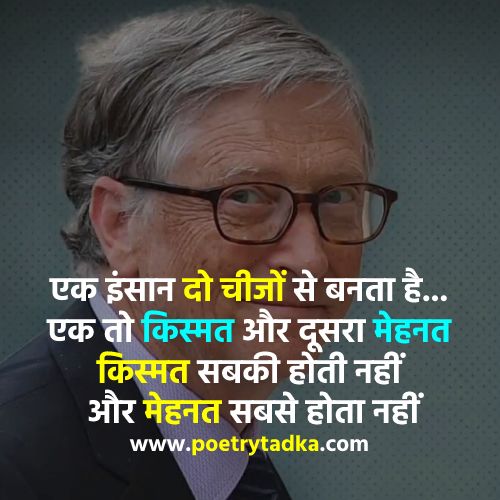 सफलता एक घटिया शिक्षक है.
यह चतुर लोगो में यह सोच पैदा
करती है कि वे हार नहीं सकते हैं।
Safalta Ek Ghatiya Shikshak Hai.
Yah Chatur Logo Mein Yah Soch Paida
Karti Hai Ki Ve Haar Nahin Sakte Hain.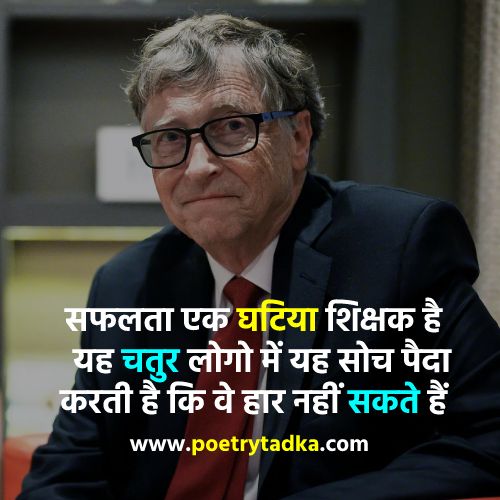 यदि आप गरीब पैदा हुए हैं तो
यह आपकी गलती नहीं है लेकिन
यदि आप गरीब मर जाते हैं
तो यह आपकी गलती होगी।
Yadi Aap Gareeb Paida Hue Hain To
Yah Aapki Galti Nahin Hai Lekin
Yadi Aap Gareeb Mar Jaate Hain
To Yah Aapki Galati Hogi.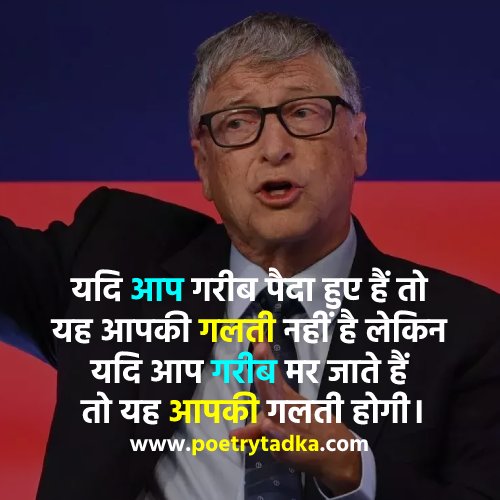 बड़ी जीत के लिए आपको
कभी कभी बड़े जोखिम
उठाने पड़ते हैं।
Badi Jeet Ke Lie Aapko
Kabhi Kabhi Bade Jokhim
Uthaane Padate Hain.